Navy Sends Congress Its $5.3B Wish List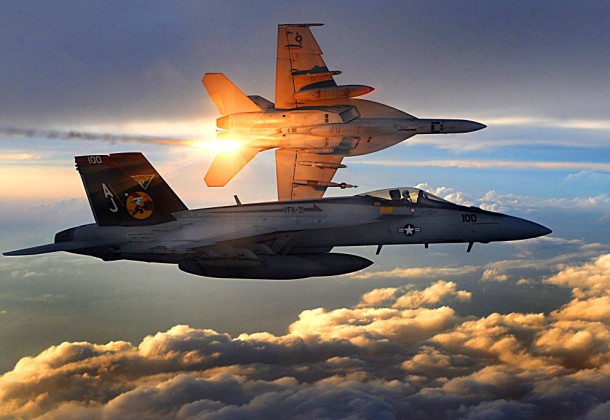 Morning Coffee is a robust blend of links to news around the Internet concerning the Naval Air Station Patuxent River

economic community. The opinions expressed here do not reflect opinions of the Leader's owners or staff.
Adm. John Richardson, chief of naval operations, sent the Navy's 48-item wish list to Congress last week, Defense One reports. The Navy wants an extra $5.3 billion for planes, ships, missiles, and other smaller projects that did not make it into the 2018 budget request. Items on the list include 10 F/A-18 Super Hornets ($739M), six P-8 Poseidons ($1B), four F-35C jets ($540M), and four CMV-22 Ospreys ($392M). Aviation Week reports the Air Force's $10.7B wish list includes 14 F-35s and three KC-46s.
The Navy is planning a multi-billion-dollar shipyard upgrade effort to help four yards maintain submarines and aircraft carriers more efficiently and accommodate the newest ships, USNI News reports. Naval Sea Systems Command commander VADM Tom Moore said the Navy will spend $3 billion to $4 billion replacing the drydocks at these yards.
Marine Fighter Attack Squadron 121 is expected to deploy aboard the amphibious assault ship Wasp with the 31st Marine Expeditionary Unit in the fall, Military.com reports. The Marine Corps' first squadron of F-35B Joint Strike Fighters has been ironing out the basics of operations in the Pacific, from streamlining supply chains to practicing "hot reloads" and rapid ground refueling from a KC-130.
Lockheed Martin is seeing demand from abroad for its missile defense systems and Patriot interceptor missiles, Investor's Business Daily reports. The Terminal High Altitude Area Defense system is now deployed in South Korea and Guam, and Saudi Arabia showed an interest in the system during President Donald Trump's visit there last month.
Reuters reports DefSec James Mattis said the US remains committed to its Asia-Pacific allies, as he arrived Friday in Singapore for a defense and security forum. Mattis told reporters at the annual Shangri-La Dialogue in Singapore he would talk about the "international order" needed for a peaceful Asia, a reference to countering North Korea's nuclear and missile program.
The USS Carl Vinson and USS Ronald Reagan carrier strike groups steamed alongside Japanese Self Defense Force ships in the Sea of Japan late last week during the latest joint exercise. Washington Examiner reports this is the  biggest show of US naval force since North Korea stepped up its missile program. The operations are meant to reassure allies, "show resolve," and keep the US military ready for whatever it needs to do, The Washington Post reports.
The Army is developing a mannequin that researchers call the world's first crash test dummy for under-body vehicle blast testing, Army Times reports. Its called a Warrior Injury Assessment Mannequin, or WIAMan, and is expected to be ready in 2018 and accurately show the affect of a blast on soldiers in new vehicle systems.
VADM Joseph Rixey, head of the Defense Security Cooperation Agency, will retire this summer, Defense News reports. He has been in that position since September 2013. His replacement has not yet been announced.
The city of Coronado, California, is honoring its naval history with The Avenue of Heroes, the Coronado Eagle & Journal reports. Among the honorees is the late VADM Frederick "Trap" Trapnell. He served as commander of the Naval Air Test Center at Patuxent River when it was brand new. He also mounted a successful campaign to establish the Test Pilot School at Pax.
The Tester reports that members of the Avionics Architecture Team from NAVAIR's Air Combat Electronics Program Office (PMA-209) were recently recognized as one of four winners of the prestigious 2016 Defense Standardization Program Achievement Award.
Contracts:
Lockheed Martin Mission Systems and Training, Liverpool, New York, is being awarded a $41,951,803 modification to previously awarded contract (N00024-13-C-6292) to exercise options for the production of TB-37 Multi-Function Towed Array production units, accessories, and shipping products, and the performance of engineering services. This contract combines purchases for the Navy (56 percent); and foreign military sales to Japan (44 percent). Work will be performed in Liverpool, New York (66 percent); Millersville, Maryland (33 percent); and Marion, Massachusetts (one percent), and is expected to be completed by September 2019.  Fiscal 2017 other procurement (Navy); and foreign military sales funding in the amount of $38,780,435 will be obligated at time of award and contract funds will not expire at the end of the current fiscal year. The Naval Sea Systems Command, Washington, District of Columbia, is the contracting activity.
Federal Resources Supply Co., Stevensville, Maryland, was awarded a $15,194,881 modification (0008) to contract W56HZV-15-D-0015 for urban operation platoon set, consisting of high technology equipment, which provide military personnel with enhanced capabilities to perform missions on complex or urbanized terrain. Work will be performed in Stevensville, Maryland, with an estimated completion date of Feb. 28, 2018. Fiscal 2016 other procurement (Army) funds in the amount of $15,194,881 were obligated at the time of the award. US Army Contracting Command, Warren, Michigan, is the contracting activity.
LRS Federal, Pasadena, Maryland, was awarded a $10,000,000 firm-fixed-price contract for architect-engineering services. Bids were solicited via the Internet with 16 received. Work locations and funding will be determined with each order, with an estimated completion date of May 31, 2022. US Army Corps of Engineers, Fort Worth, Texas, is the contracting activity (W9126G-17-D-0006).
Booz Allen Hamilton Inc., McLean, Virginia, is being awarded a $14,835,319 indefinite-delivery/indefinite-quantity, cost-plus-fixed-fee multiple award contract for platform integration and systems engineering support to provide design, engineering, integration, and advanced concept development for command, control, communications, computers, intelligence, surveillance and reconnaissance capabilities for the Department of Defense. This is one of three multiple award contracts. All awardees will have the opportunity to compete for task orders during the ordering period. This two-year contract includes one three-year option which, if exercised, would bring the potential value of this contract to an estimated $43,501,815. All work will be performed in San Diego, California, and work is expected to be completed May 31, 2019. No funds will be obligated at the time of award. unding will be obligated via task orders as they are issued. The predominant type of funding is anticipated to be operations and maintenance (Navy). Contract funds will not expire at the end of the current fiscal year. This contract was competitively procured via request for proposal N66001-16-R-0156 published on the Federal Business Opportunities website and the Space and Naval Warfare Systems Command  e-Commerce Central website, with six offers received and three were selected for award. The Space and Naval Warfare Systems Center Pacific, San Diego, California, is the contracting activity (N66001-17-D-0156).
Aleut Field Services LLC, Colorado, Colorado, was awarded a $9,039,820 firm-fixed-price contract to provide technical functional operational upgrades to Walter Reed National Military Medical Center communication infrastructure. One bid was solicited and one bid received. Work will be performed in Bethesda, Maryland, with an estimated completion date of Sept. 3, 2108. Fiscal 2013 other funds in the amount of $9,039,820 were obligated at the time of the award. US Army Corps of Engineers, Huntsville, Alabama, is the contracting activity (W912DY-17-C-0020).