Navy Moving to Arm the Fire Scout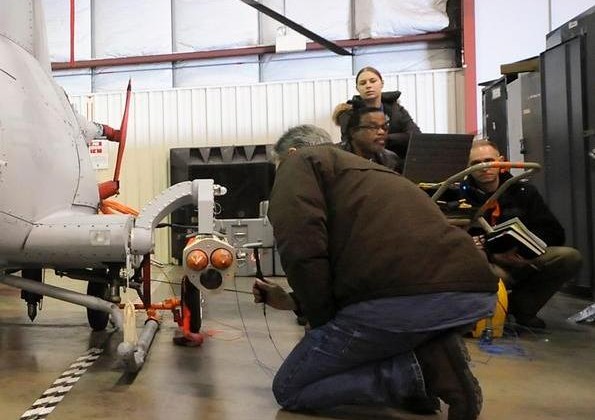 A team at Webster Outlying Field is working briskly on an urgent Navy request to weaponize the MQ-8B Fire Scout, marking the first time the Navy will arm an unmanned aircraft.
The Fire Scout team and NAVAIR's structures rotary-wing division personnel conducted the first of a series of tests March 7 on the newly installed hardware, which will gauge how the system will operate in the shipboard environment.
The Navy plans to arm the MQ-8B Fire Scout with a laser-guided rocket, the Advanced Precision Kill Weapon System (APKWS), in just 18 months. Arming the Fire Scout with a guided rocket will enable the fleet to engage hostile threats with the Fire Scout independent of air support from carrier or shore-based aircraft.
The team planned this test event to get an early look at the new hardware design installed on the aircraft, allowing them to identify any issues before beginning ground and flight tests later this year. Ground and flight tests will be conducted by Naval Air Warfare Center's Aircraft Division and Weapons Division personnel at Webster Field and China Lake, Calif., with support from NAVAIR, Naval Sea Systems Command and industry partners.
Source: PEO(U&W) Public Affairs