NAVAIR Work, Life Balance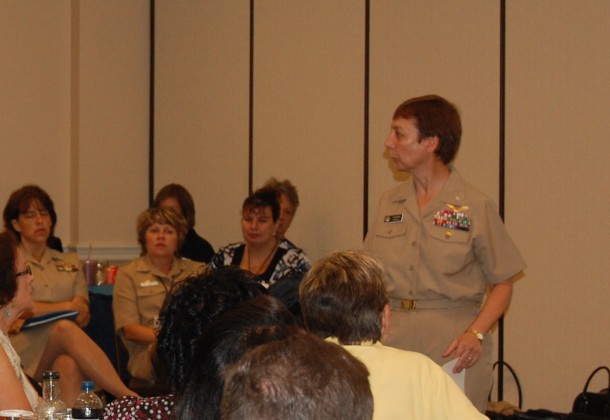 By NAVAIR Headquarters
For the first time in U.S. history, women constitute half of all workers, and mothers are the primary breadwinners or co-breadwinners in nearly two-thirds of American families – two of the many reasons for the first Women's Advocacy Group (WAG) at NAVAIR, which officially kicked off July 20.
NAVAIR senior leadership envisioned the WAG as a forum for representative male and female employees of varying career areas and levels within the command to discuss topics related to women in the workplace. The group will serve as part of the command's plan for a long-range workforce strategy to ensure sufficient diversity, depth, breadth and experience in key skill areas.
While women receive 52 percent of high school diplomas, 62 percent of associate's degrees, 57 percent of bachelor's degrees, and 50 percent of doctoral and professional degrees, they remain concentrated in health and education fields. Women are falling further behind in science, technology, engineering and math (STEM) career areas – areas in which NAVAIR relies heavily to accomplish crucial research, testing and evaluation and engineering services.
The WAG will begin the process of determining the reasons for low participation by women in these areas, along with addressing family-friendly workplace policies, barrier identification and removal, and improving the experience of women in the military.
Rear Adm. (sel) CJ Jaynes, WAG co-champion, assistant commander, Logistics and Industrial Operations, and NAVAIR's first female admiral select, welcomed group members with stories of her own career milestones, and how she navigated her rise to the top as a woman in the military. She urged NAVAIR women to have a vision for themselves, but to start helping to change their work environment by being the best at what they already do.
"I had to prove myself at each step of my career," said Jaynes. "But I was treated fairly and honestly; I had to prove myself because I was an ensign or lieutenant…not because I was a woman."
But she acknowledged that barriers to success still exist for women in the workplace. "With this team, we want to be able to identify and remove as many of those barriers to women's success as possible."
Renee Yuengling, Ph.D., a well-known entrepreneur and industry expert on the linkage between diversity, leadership and high performance, led the kick-off event, where WAG members began training to identify and analyze barriers in their own work places as a prelude to finding creative ways to remove them.
"Understanding barriers to the retention and performance of all demographic groups is the only way to prevent effective recruitment of a diverse workforce from becoming a costly revolving door," said Yuengling.
The WAG is co-championed by Jaynes, and NAVAIR senior executive service members Leslie Taylor, director, Flight Test Engineering, and Walt Augustin, technical director, Naval Air Warfare Center Training Systems Division, and director, Human Services department.
"In order for NAVAIR to maintain its position as an employer of choice and increase our ability to be the premier naval aviation support enterprise, we need to be able to recruit, retain, develop and harness the incredible amount of talent that exists across our entire diverse workforce. A significant portion of that workforce is represented by women," said Augustin.
"Women comprise over 50 percent of the country's population now, and are graduating from college in higher numbers than ever. We want to make sure NAVAIR's women are mentored and groomed to be in leadership positions," said Taylor, who acts as a formal and informal mentor to many of NAVAIR's female employees.
"It's very important for young women to understand that they have champions – they are not alone," said Jaynes.