NAVAIR Upgrades In-Flight Network for Top Brass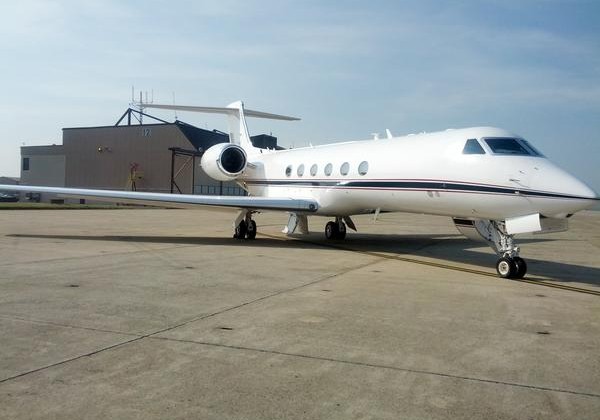 In today's digital world, fast and reliable connectivity is essential to high-ranking government officials traveling aboard the Navy's C-37A executive lift aircraft.
This summer, the Navy upgraded a C-37A to SwiftBroadband IP connectivity. The internet protocol-based satellite communications network optimizes voice and data transfer through a secure 'always-on' data connection. It is designed to meet requirements for increased bandwidth for multiple users in both foreign and domestic air space.
Much like upgrading your home Internet connection from dial-up to high-speed, Swiftbroadband enhancements are unmistakable to the end user.
Modification is limited to one C-37 aircraft at this time. Future modifications to the fleet of C-37B aircraft will be determined once an established baseline is acquired from continued use aboard the C-37A.
The improved speed of information sent and received while airborne allows the aircraft's mobile communications system, the Joint en-route mission planning and rehearsal system, also known as JEMPRS, to 'plug-and-play' instantly into classified or unclassified Internet networks, such as the Navy Marine Corps Intranet. Continuous and secure Internet connection provides greater in-the-air command-and-control capabilities for executive leadership.
Unlike the aircraft's previous communications network, Swift 64, SwiftBroadband is always connected and uses the latest generation of International Maritime Satellites, better known as Inmarsat. The 'always-on' connection eliminates the need for the per-minute usage data/voice plan of the legacy system.
To achieve adequate bandwidth through Swift64, flight crews link up to as many as four satellite channels in the event that passengers may need Internet access. Linked channels are charged per-minute regardless of the amount of data transferred. The 'always-on' feature of Swiftbroadband does not charge for time unused; only data transferred.
SwiftBroadband also provides the ability for simultaneous voice and data communication, large file transfer for video and graphic presentations, and video conferencing.
The Tactical Airlift, Adversary and Support Aircraft program is responsible for research, development and acquisition of U.S. Navy and Marine Corps light, medium and executive lift transport, aerial refueling, adversary training and tactical mission aircraft.
Source: PEO(A) Public Affairs