Music, Lights at Annmarie Garden In Lights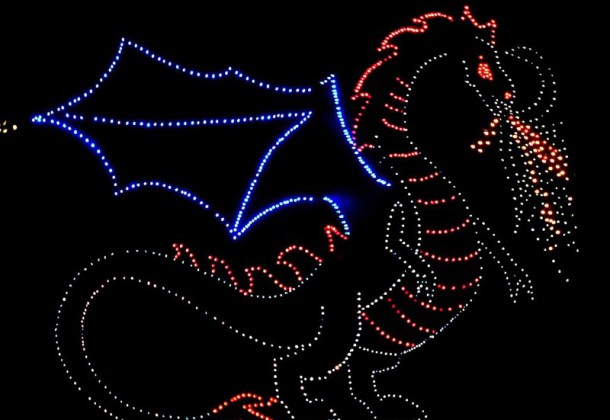 Annmarie Sculpture Garden & Arts Center in Solomons has added musical lights and new walking paths to its annual Garden in Lights, open through January 2, 2016, from 6 to 9 p.m. with music and entertainment most evenings. The show is closed Dec. 14, 15, 24, 25.
Annmarie Garden In Lights features hundreds of handmade "light sculptures" arranged in spectacular scenes, including a wild animal disco party, a galactic space adventure, a tribute to Maryland, ferocious dinosaurs, a glittering tour under the ocean, a colorful garden, as well as beautiful princesses and evil villains. Admission is $6; free for children 4 and younger; members are admitted free. For detailed information on the season's entire schedule and a discount coupon, visit www.annmariegarden.org or call 410-326-4640.
On Dec. 12, hear the COSMIC Flute Choir playing holiday favorites and outdoor caroling by the Mill Creek Middle School Chamber Chorus. Enjoy the Holiday Maker's Market, snacks in the holiday café, magical photo ops, and more.
On Dec. 13, visit Santa Claus and then enjoy the light show.
On Dec. 16, the entertainment is Eric Skow and Bob Pfeiffer playing rock and folk music.
On Dec. 17, see Calvert Brass Consortium playing jazz and classical holiday music. Enjoy outdoor caroling by the George Washington Carver Elementary Primary Chorus.
On Dec. 18, Bootlegger Trio will play an eclectic mix of music by women.
On Dec. 19, Chris Tenney & Riverside South will play bluegrass music. Outside enjoy an amazing LED hula hoop performance by Lee Ann Juday!
An affiliate of the Smithsonian Institution, Annmarie Sculpture Garden & Arts Center (AMG) is located in scenic Solomons, Maryland, on the Chesapeake Bay. The sculpture garden features a walking path that meanders through the forest past permanent and loaned sculpture, including more than 35 works of art on loan from the Smithsonian Institution and the National Gallery of Art. AMG also presents a variety of award-winning special events, gallery shows, and engaging public art programs. AMG's Studio School offers creative classes for all ages and abilities taught by a talented faculty. Annmarie Garden is conveniently located just off Route 2/4, on Dowell Road in Solomons, Maryland; open 9 am to 5 pm daily; the Murray Arts Building and Gift Shop are open 10 am to 5 pm daily.
To learn more about Annmarie Sculpture Garden and Art Center, visit their Leader member page.