Museum Starts Capital Drive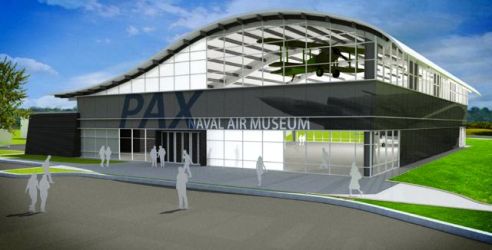 Posted by Capt. Arvid E. "Ed" Forsman, USN (Ret.)
Board President, Patuxent River Naval Air Museum Association, Inc.
Off the Map
Greetings! The Board of Directors of the Association and Association staff thank our members for their continued support. It is my pleasure to announce that the new museum building will break ground in late April or early May. Final architectural rendering of our new museum exterior has been posted on our web site for your review. With your added support, our objective of opening a world class, modern museum is on the horizon. Our new museum should have a ribbon cutting in late 2013 or early 2014.
As we approach the Holiday Season and calendar year-end, it is time to announce our 2012 annual membership and capital campaign contribution drive. As a 501(c)3 not-for-profit organization, your donation is fully tax deductible. You can also receive important tax advantages by making a donation from your IRA account. This year, we are starting a new Capital Campaign Contribution program to provide the necessary funding to upgrade and properly display the exhibits and organize our archives suitable for better use in our new building.
Our collection of naval aviation exhibits and artifacts continues to grow and expand. Specifically, this year we have added a unique display, an exact replica of the Curtis A-1 Triad; the Navy's first Aircraft. We look forward to introducing her to you this spring at our "Come Fly With Us Celebration".
Happy holidays, good health and continued prosperity!