Morning Coffee Is Off the Burner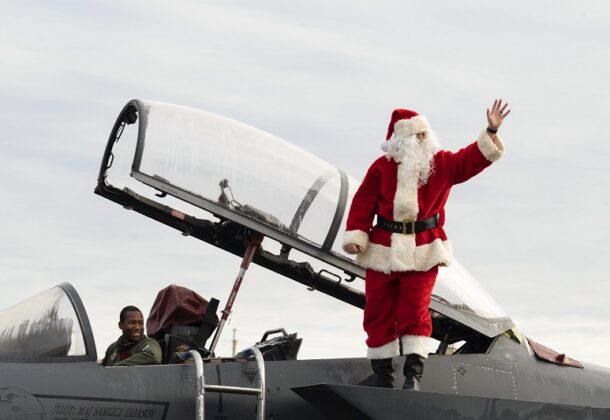 Morning Coffee is a robust blend of links to news around the internet concerning the Naval Air Station Patuxent River

economic community. The opinions expressed here do not reflect opinions of the Leader's owners or staff.
Morning Coffee is off the burner for the holidays. Please keep in your thoughts all those working to keep the world safe, especially during this time. We will be percolating again Monday, January 3, 2022.
The Army band known as the Six-String Soldiers have a viral Christmas hit released to Facebook that will get your foot tapping, reports Army Times. Released on Thanksgiving day the band's music video, "18 Wheel Chrome & Steel Sleigh," has been viewed more than a million times.
In the photograph above: Santa waves to onlookers during the 48th Fighter Wing Children's Holiday Party at Royal Air Force Lakenheath, England, December 11, 2021. Santa made his grand entrance in an F-15E Strike Eagle assigned to the 494th Fighter Squadron. (US Air Force photo by Airman 1st Class Jacob Wood)