Morning Coffee: Budget Cuts Naval Aviation, Not UCLASS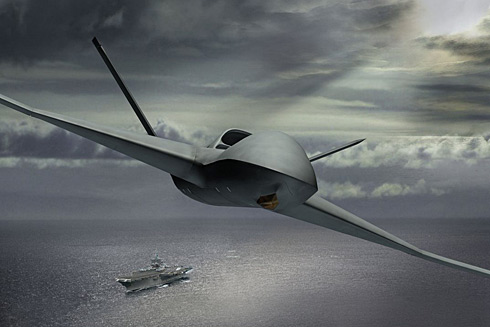 Morning Coffee is a robust blend of links to news around the internet concerning the Naval Air Station Patuxent River economic community. The opinions expressed here do not necessarily reflect those of the Leader's owners or staff.

A lot of naval aviation programs take big hits in the proposed FY15 budget, reports Defense News, including the P-8A Poseidon, F-35C Joint Strike Fighter, and MH-60R helicopter. But the Navy's unmanned carrier-launched airborne surveillance and strike UCLASS system is on a growth curve with $403 million proposed in FY15, up from $122 million this fiscal year, reports Flight Global. Plans aim for six to 24 of the stealthy UAVs by 2020,  says a Government Accountability Office report.
NAVAIR News reports, the Aviation Week and Space Technology's Laureate Awards ceremony last week honored the X-47B-Demonstration team for performing a naval aviation first, operating a tailless, full-size Unmanned Air System in the carrier environment.  The awards honor accomplishments of individuals and teams in the aerospace, aviation and defense industry.
Sen. Kirsten Gillibrand, (D-NY) came up five votes short of the 60  needed to proceed with her campaign to overhaul military sexual-assault policies, reports Politico. The mixed bag of votes showed different views of the military within both parties. Such a close vote suggests she may have only lost one battle in what was described as a military cultural war. A bill by Sen. Claire McCaskill, D-Mo. is expected to be passed by the full Senate today, Monday, which allows victims' input in determining whether their cases are tried in military or civilian courts.
The Military Times reports an overall, 10 percent reduction in benefit value as the financial bottom line to a radically new approach the Pentagon is proposing to staunch the benefit cost escalation dwarfing future DoD budgets.
Naval Sea Systems Command was put in charge of finding alternatives to the Littoral Combat Ship. The study, ordered by Sec Def Chuck Hagel is to look at options including adding more armament and weaponry, or designing a new platform with more armor, weapons and vertical launch tubes for missiles, DoD Buzz reports.
Pratt Whitney reports the crack found in the rotor of an F-35 engine poses no immediate risk. The hollow rotors will be replaced with solid rotors, Rueters reports. This will strengthen the rotor, reduce cost, but add six pounds that will need to be reduced elsewhere for the engine to meet specs.
The Motley Fool reports on the Ukraine as a chess match between the US and Russia recounting the moves late last week: the US dispatched six  F-15 fighters  jets to Lithuania, a dozen F-16s to Poland, and the USS Truxtun, a guided missile destroyer, to the Black Sea to join the USS Taylor, a guided-missile frigate already there. Russia test-fired an SS-25 Sickle ICBM, announced the beginning of anti-aircraft defense drills, began "preparing to install air defense systems" within Crimea and scuttled an old Kara-class cruiser, to block the channel keeping Ukraine's small navy in port.
Ukraine's prime minister Arseniy Yatsenyuk will meet with President Obama Wednesday, reports The Hill. In a separate article, The Hill reports, former vice-president Dick Cheney and Pres. Obama's former national security advisor  caution against a military response from the US.
DoD confirmed late last week, it does monitor the body language of world leaders through the "Body Leads" research project out of the Pentagon's internal think tank, the Office of Net Assessment, Defense Tech credits a the breaking story to Ray Locker of USA Today. Andrew Marshall, 92, directs Net Assessment, first appointed during President Richard Nixon's administration. Brenda Connors, a research fellow at the Naval War College, runs "Body Leads" and has written a 2008 report on Putin called, "Movement, The Brain and Decision-making, the President of Russia, Vladimir Putin.," according to USA Today.
China's big announcement of another big defense budget increase might again fail to measure up this year, reports Defense News. The Chinese defense budget came out last week, a day after the US's. China's touts a more than  12 percent increase from last year's military budget which was announced as nearly an 11 percent increase from the year before, but Asian scholars dispute the accounting, saying the Chinese defense budget has not grown by the amount China claims.
The Lexington Park Business and Community Association meets Wed. Mar 12, 6:30 – 8 pm, at Bay District Volunteer Fire Department. Karen Stone, Event Coordinator, Pride in the Park Parade will discuss plans for this year's parade and June Castro, Health Enterprise Zone Coordinator, MedStar St. Mary's Hospital will discuss implementation of the Health Enterprise Zone in Lexington Park, Maryland. Anyone interested in the betterment of Lexington Park is encouraged to attend.