Merry Menagerie Trots Into Sculpture Garden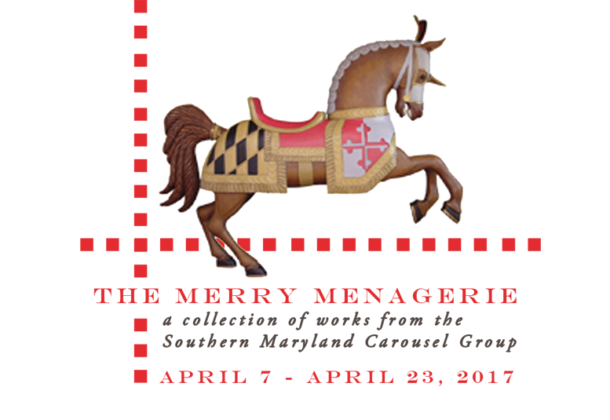 April will be a merry month at Annmarie Sculpture Garden and Art Center. The center is hosting the Southern Maryland Carousel Group for a Merry Menagerie until April 23, 2017, offering Annmarie visitors a chance to learn about this amazing project that has realized the artistic dream of creating a hand-carved wooden carousel right here in Southern Maryland.
The Merry Menagerie is a collection of works from this talented group of wood carvers.
The group, started in 2004, has worked to create a full carousel of hand-carved and painted wooden animals, including not just horses but other creatures like a swan, a rooster, and even a giant grasshopper. The carousel includes chariots for visitors with special needs, as well as dozens of animals for visitors to ride. In January, the group signed a lease with the town of La Plata for a spot in Wills Memorial Park on St. Mary's Avenue in La Plata.
Group members are still working toward the construction of a facility that, in addition to the carousel itself, will include a museum and learning center to share the history and the carvers' love of this beautiful skill. The facility will also include a gift shop and a space for both children and adults to learn the art of wood carving.
Consisting of an array of volunteer artists, the group has brought an array of animals to life, including the mascots of many of the area's schools.
About Annmarie Garden
An affiliate of the Smithsonian Institution, Annmarie Sculpture Garden and Arts Center is in scenic Solomons, Maryland, on the Chesapeake Bay. Annmarie Garden is just off Route 2/4, on Dowell Road.
The sculpture garden features a walking path that meanders through the forest past permanent and loaned sculpture, including more than 35 works of art on loan from the Smithsonian Institution and the National Gallery of Art. Annmarie also presents a variety of award-winning special events, rotating gallery shows, and engaging public art programs. Annmarie's Studio School offers creative classes for all ages and abilities taught by a talented faculty.
To learn more about Annmarie Garden, visit its Leader member page.