MedStar Offers Help for Stroke Survivors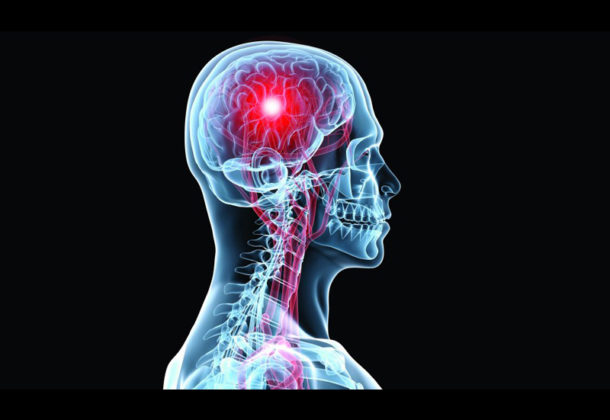 St. Mary's County resident Jim Macaulay knew he was suffering a stroke. One night around seven years ago, his right arm suddenly went numb and his right leg wasn't responding. "When I tried to curse," he said, "I found out my speech was slurred." Mr. Macaulay was taken to MedStar St. Mary's Hospital in Leonardtown where test results indicated he was having a hemorrhagic stroke. Within a short period of time, he was sent by helicopter to MedStar Washington Hospital Center.
Mr. Macaulay regularly attends the Stroke Survivors Support Group, meeting monthly in the Outpatient Pavilion at MedStar St. Mary's Hospital, as is Mary Ann Hayden of Bushwood, also a survivor of a stroke. "Once I started going, I have never missed a meeting," she said.
Ms. Hayden suffered a hemorrhagic stroke in March 2017. Her son took her to the MedStar St. Mary's Hospital emergency room.
"Two nurses came out and took me in and there were people all around me doing their jobs," Ms. Hayden said. Her blood pressure skyrocketed when she found out about her condition, and the doctor treating her immediately went to work to bring it down so she could be transported to MedStar Washington Hospital Center. "My doctor never left my bedside," she said.
Both Mr. Macaulay and Ms. Hayden have had several different therapies to overcome the lasting effects of their strokes. Mr. Macaulay regained his ability to drive after several years and is now able to take short hikes, something he loved to do before his stroke. Ms. Hayden was able to host Christmas dinner for her family, cooking much of the meal herself thanks to a simple tip from a therapist to help her overcome her challenges with short-term memory.
"They taught me to use sticky notes, so I had sticky notes all over the kitchen," she said. "It helped keep me going.  … As long as I can stay like this I will be satisfied, I can do pretty much anything I want to. I'm just a little slow."
Mr. Macaulay was especially happy to resume driving his speedboat in the Southern Maryland Boat Club's Leonardtown Regatta.
"This 70-year-old stroke survivor was racing his boat at 60 mph on the water," he said. "I intend to do that as long as I can."
Help for Patients with Aphasia
Anna Decker, MS, CCC-SLP, is a speech-language pathologist at MedStar St. Mary's Hospital, and helping people who have been affected by aphasia is her personal mission.
"My mother had a stroke which caused aphasia — a communication deficit that makes it difficult to speak," Ms. Decker said. "She uses a communication app on the iPad to speak for her, which helps her continue to live a full life."
Aphasia is usually caused by stroke, but can also be the result of other traumatic injuries to the brain. People with aphasia often have a hard time reading, writing, speaking, or understanding language.
"Aphasia is not a loss of intelligence, but a frustrating condition which affects the ability to communicate. Imagine not being able to say what you are thinking," Ms. Decker said. "This is what people with aphasia experience every day."
Working with a speech-language pathologist can often help patients regain the ability to speak or help them find other ways to communicate; however, the recovery process can be long and some people never truly regain their normal speech. People with aphasia can live a full and enjoyable life, even with communication difficulties or deficits.
Ms. Decker offers these tips for communicating with someone who has aphasia:
KEEP IT SIMPLE. Speak in short, simple sentences.
BE PATIENT. Allow plenty of time for a response. Talk with him/her not for him/her.
BE CREATIVE. Try writing, gesturing, pictures, and communication tools like an iPad. Repeat back what you think he/she is saying.
DON'T SHOUT. Hearing is not affected and yelling does not help.
ASSUME COMPETENCY. Intelligence and cognition are generally intact; treat it like a language barrier.
Think FAST; Learn More
Don't wait until it's too late.
Inform yourself and loved ones about the warning signs of a stroke, and learn what to do if you suspect the condition. Remember: If someone is showing any signs of stroke, even if those symptoms go away, call 9-1-1 and note the time when the symptoms first appeared; this information helps health care providers decide on the best course of treatment.
Visit MedStar St. Mary's stroke website and its aphasia site to learn more about the care and services offered at MedStar St. Mary's Hospital.
To reach MedStar St. Mary's Hospital Rehabilitation Services Department, call 301-475-6062.
For more information and one-click access to a full list of resources available at MedStar St. Mary's Hospital, visit their Leader Page.