MedStar Health Opens Facility in Brandywine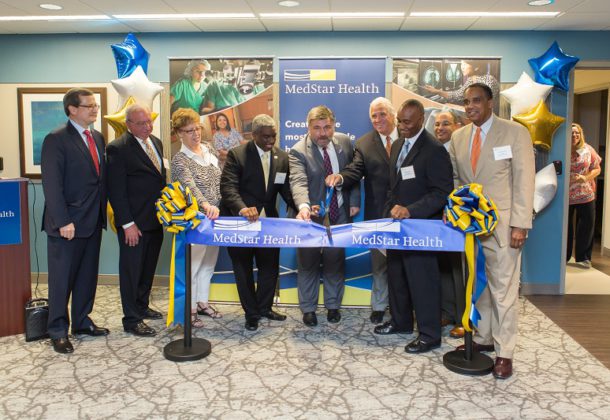 MedStar Health recently celebrated the opening of its newest health care facility July 19 in Brandywine, MD.
The community-based health care center, at 13950 Brandywine Road, will serve Prince George's and Charles counties. The state-of-the-art, 60,000-square-foot facility brings medical specialists from MedStar Georgetown University Hospital, MedStar Washington Hospital Center, and MedStar National Rehabilitation Network to one convenient location, along with primary care, radiology, and laboratory services.
MedStar Health at Brandywine also features a meeting room that can be used by community groups and organizations.
The Brandywine location offers high-quality patient care in a number of specialties, including cardiology, orthopaedics, otolaryngology (ear, nose and throat), physiatry, primary care, rehabilitation, and rheumatology. Laboratory and radiology services are offered on site, along with free parking and Wi-Fi.
Brandywine is the fifth ambulatory care center opened by MedStar in the past four years and the second in Prince George's County.
"It's all part of the continued investment by MedStar into this area," said Bob Gilbert, president of MedStar Health Ambulatory Services.
MedStar hosted a grand opening celebration for the facility July 14. Maryland Senate President Thomas V. "Mike" Miller spoke during the event, along with Gilbert, Eric R. Wagner, MedStar's executive vice president of Insurance and Diversified Operations, and Dr. Dennis Carlini, a MedStar orthopaedist.
The facility soon will include a same-day surgery center and an infusion center.
MedStar St. Mary's Hospital is a full-service community hospital, delivering state-of-the-art emergency, acute inpatient and outpatient care in Leonardtown. Nestled in a waterside community, MedStar St. Mary's provides advanced technology with a dedication to excellence in all services provided. The not-for-profit hospital has been named among the nation's Top 100 Hospitals and is an eight time recipient of the prestigious Delmarva Medicare Excellence Award. In addition, MSMH received the Maryland Performance Excellence award at the Platinum level in 2014 – the highest in the state. The staff is committed to providing quality and compassionate medical care for all patients by coupling innovation with an outstanding team of medical staff members, associates, and volunteers.
For more information and one-click access to a full list of resources available at MedStar St. Mary's Hospital, visit their Leader Page.