MEDA Predicts 'Explosive' Future for Commercial Aviation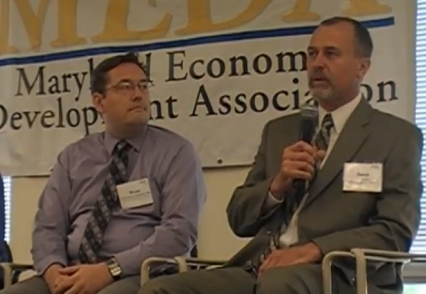 Posted by
The Patuxent Partnership
Pax II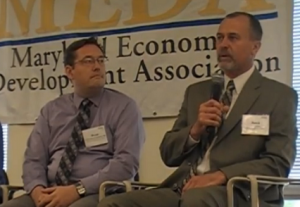 California, MD — Commercial aviation experts addressed last week challenges facing commercial aviation in  St. Mary's County and Maryland at an MEDA conference held here.
Speaking at the 2013 Maryland Economic Development Association's conference on the future of aviation in Maryland at the Southern Maryland Higher Education Center, the experts foretold of a state "poised for explosive growth" in commercial aviation.
"Maryland's airports are tremendous economic engines for their communities, and they are poised for explosive growth in the future," said Lawrence F. Twele, CEcD, President/CEO of Howard County Economic Development Authority and MEDA's President.  "We will be examining the economic impact of the state's airports, their workforce needs, and how to capitalize on their potential."
Bonnie Marie Green, Executive Director of the Patuxent Partnership moderated a panel focusing on the workforce challenges presented by this growth and on ways to attract those workers. (Video below.)
Panel members included Rich Brasel, Director of Navy Programs, AAI Corporation; Bernard Adams, Director of Hagerstown Branch Campus, Pittsburgh Institute of Aeronautics; Bryan Burrows-McElwain, ABD, CFI-I, Aviation Coordinator, UMES; and Douglas Williams, Ph.D., ATP, CFI/II, Avation Program Director, The Community College of Baltimore County.
According to Mr. Brasel, some of the main challenges are with testing autonomous flight projects. In order to test products AAI Corp. often has to conduct testing out of  state due to an abundance of restricted air space.
Anther challenge facing general business aviation in Maryland is in keeping the workforce within the industry. Pittsburg Institute of Aviation graduates trained aviation mechanics, however according to FAA predictions, only one skilled worker will be entering the workforce for every three leaving.
According to Mr. Burroughs-McElwain many of the skills that technicians learn in the UMES Aviation program are transferable to other industries. These graduates are being offered jobs in less strictly regulated industries and offered competitive pay rates, taking them away from aviation.
[youtube=http://www.youtube.com/watch?v=pM77NWRbQQs]