Math, Science Teachers Honored by SMECO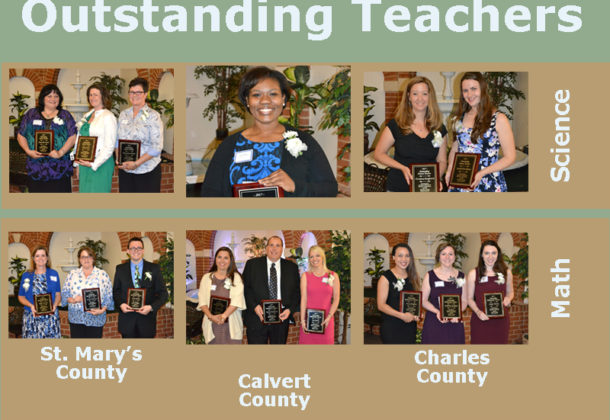 Fifteen math and science teachers in Calvert, Charles, and St. Mary's County schools have been selected for the Outstanding Teacher awards from Southern Maryland Electric Cooperative.
Nine math and six science teachers from schools in the three counties have received awards. All of the teachers were selected for outstanding performances in creativity, rapport with students, professionalism, enthusiasm for teaching, and teaching methods that are innovative. All of the teachers received plaques and cash awards during a dinner held for them. During the past 26 years, SMECO has recognized more than 350 math and science teachers in Southern Maryland.
SMECO President and CEO Austin J. Slater Jr. welcomed the award winners at the dinner.
"We're committed to a well-educated Southern Maryland community, and we know that starts with the men and women in front of our classrooms. Well-educated students are vital for the continued success of businesses, like SMECO, because they bring valuable skills to the workplace, especially in mathematics, science and technology," Mr. Slater said. "Our gifted honorees understand that their jobs are about more than teaching mathematics and science. It's about teaching things like character, imagination, and resilience. They display a commitment to classroom excellence and are helping to ensure that Southern Maryland schools prepare the next generation of leaders and innovators."
The keynote speaker for the dinner was Navy Lt. Rebecca Shaw, a test pilot at Naval Air Station Patuxent River. Lt. Shaw talked about her journey toward earning her mechanical engineering degree from the U.S. Naval Academy and into an elite career in naval aviation. Initially, she had considered a career in writing, but teachers stressed mathematics and science and encouraged her aptitude in those fields. Lt. Shaw said she learned the process of learning, a skill that was invaluable as she progressed in her career.
"In flight test, I work alongside some of our nation's most impressive engineers and I see the results of teachers' service in education. As a patriotic person, I appreciate that you provide such a great service to our country. I also value freedom. Teachers who provide students with a good education give students the freedom to pursue a career of their choice," Lt. Shaw said. She also spoke of the importance of leadership. "The leadership that teachers bring to the classroom is what students carry forward in their careers and use to someday take their field to the next level." Showing appreciation, Shaw told the teachers, "Thank you for giving students a strong foundation in education so that they have the freedom to purse a range of opportunities in their lives."
The Outstanding Mathematics Teachers from Calvert County are Lori Berth, Windy Hill Middle School; Robert Halstead, Northern High School; and Cara Quade, Windy Hill Elementary School.
The Outstanding Mathematics Teachers from Charles County are Casey Cleary, Benjamin Stoddert Middle School; Erica Hughes, Mary H. Matula Elementary School; and Gretchen Salopek, Thomas Stone High School.
The Outstanding Mathematics Teachers from St. Mary's County are Chris Adams, Esperanza Middle School; Robin Girard, Benjamin Banneker Elementary School; and Laura Tiderman, Leonardtown High School.
The Outstanding Science Teacher of the Year from Calvert County is Krystal Butler, Northern High School.
The Outstanding Science Teachers of the Year from Charles County are Sarah Earnshaw, North Point High School; and Christina Reighard, Indian Head Elementary School.
The Outstanding Science Teachers of the Year from St. Mary's County are Emily Meny, Esperanza Middle School; Amanda Myatt, Chopticon High School; and Karenan Smart, Chesapeake Public Charter School.
Enhancing the quality of life in Southern Maryland is part of SMECO's mission. The cooperative sponsors events for students to encourage them to excel in math, science, and technology. These events include the local MATHCOUNTS competition, the annual Southern Maryland Regional Computer Bowl, and the Elementary Math Challenge. So far this year, more than 1,000 students in SMECO's service area have participated in these events.
To learn more about SMECO, visit its Leader member page.