Marine Mechanics Meet F-35B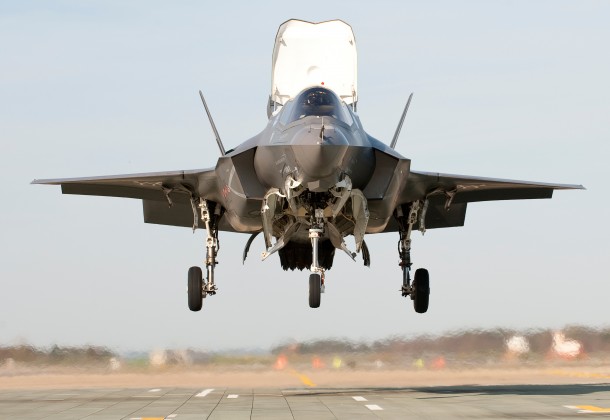 Four Marine aircraft maintainers assigned to Tiltrotor Test and Evaluation Squadron (VMX) 22, the U.S. Marine Corps' operational test authority for the F-35, completed a 40-day visit to the F-35 Joint Strike Fighter integrated test force facility at Naval Air Station Patuxent River Aug. 12.
The Marines are among the first in VMX-22 designated to perform operational test and evaluation on the Marine Corps' F-35B at Edwards Air Force Base in California, and were able to get their first hands-on experience on an F-35B test aircraft.
"We learned a lot, and by coming out here, we're setting ourselves up to be ready to handle the aircraft when it comes out to Edwards for operational test," said Gunnery Sgt. Bruce Cervelli. "Most of the work we're able to do now is tabletop joint test data verification. There is nothing like being able to get some hands-on OJT."
One of the differences in maintenance for the F-35 will be the aircraft's low-observable (LO) characteristics. "The LO material is going to require different maintenance practices for the F-35, because we don't have LO now in the fleet," said Sgt. Tyler Brockman, a hydraulics and airframe maintainer.
As maintenance procedures are developed during the developmental test period, the aircraft itself will save maintenance time in other ways.
"The F-35 troubleshoots itself," said Sgt. William Cone, an avionics maintainer. "We won't be doing any wire chasing anymore."
The first F-35B operational test aircraft is scheduled to deliver next year, and the VMX-22 detachment will gradually ramp up from 12 personnel now to 120 when operational testing begins.
The F-35B is the variant of the Joint Strike Fighter for the U.S. Marine Corps, capable of short take-offs and vertical landings for use on amphibious ships or expeditionary airfields to provide air power to the Marine Air-Ground Task Force. Initial ship trials for the F-35B are scheduled for this fall. The F-35B is undergoing test and evaluation at NAS Patuxent River prior to eventual delivery to the fleet.
Source: PEO(JSF) Public Affairs