March 2017 Events at CSM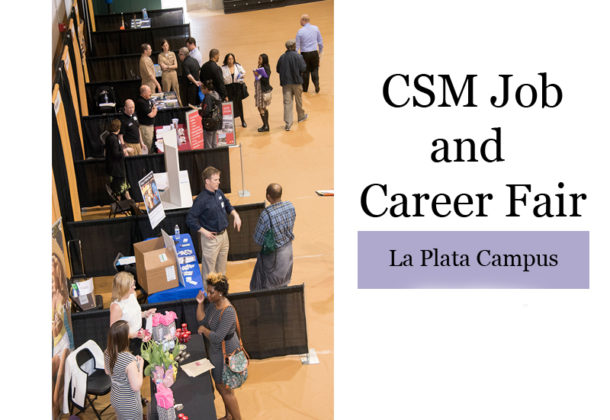 The College of Southern Maryland will start off March with a CSM Alumni & Friends Connection Dinner.
CSM alumni are invited to the CSM Alumni & Friends Connection for dinner and to share insights at one of three focus group sessions. Ideas shared will directly impact how CSM alumni are served. Dinners and focus group sessions will be held at 6 pm March 7 at the College of Southern Maryland La Plata Campus in the Center for Business and Industry (BI Building), Room 113E at 8730 Mitchell Road; at 6 pm March 9 at the Leonardtown Campus Building C, Room 216 at 22950 Hollywood Road; and at 6 pm March 14 at the Prince Frederick Campus Flagship Building, Room 119 at 115 J.W. Williams Road. The events are free. A $50 gift card will be raffled at each event, and there will be door prizes. RSVP by March 3 here. The college is also interested in hearing from alumni who can't attend. Click here.
Jay Lilly, an alumnus of CSM, Class of 1975, and co-chair of the CSM Foundation Alumni Committee, is an advocate for maintaining ties with the college and with others who attended. "It is a great way to rekindle past friendships and relationships and to interact with fellow alumni to see what paths their lives have taken and allows you to expand your circle of friends," Lilly said. It is a way to "expand your personal and professional contacts."
Staying in touch with CSM also offers the opportunity to help make the college continue to improve. "What a great opportunity — give back to the college and its community that helped you build your foundation," Lilly said. "Pay it forward for others to have the chance to excel and succeed."
CSM Children's Theatre will present "Knuffle Bunny: A Cautionary Musical" at 7 pm March 10 and 2 and 7 pm March 11 at the La Plata Campus theater in the Fine Arts Center. The play is based on a Mo Willems book. Tickets are $7 adult/senior, and $5 for high school and younger. Email [email protected] or call 301-934-7828.
March 10 is the deadline for employer registration for the CSM Tri-County Job and Career Fair on March 28. The fair will be held from 10 am to 2 pm, with set-up from 8 to 9:30 am, at the Business and Industry (BI Building) on the La Plata Campus. There is a $175 fee for employer registration. Job seeker registration is free. Click here or call 301-934-7569.
CSM Ward Virts Concert Series will welcome The Eric Byrd Trio at 3 pm March 12 at the Prince Frederick Campus Building B Multipurpose Room 104. The trio of musicians are enthusiastic ambassadors of jazz. Rooted in swing and bebop, the group also embraces gospel and the blues as core elements of its expansive performance style. Doors open at 2:30 pm. Limited seating. The concert is free.
CSM Continuing Education: Free Information Session on New Drone Courses will be held 6 to 7:30 pm March 14 at the College of Southern Maryland Leonardtown Campus in Building C, Room 114 at 22950 Hollywood Road in Leonardtown. Details will be shared about two courses: "Introduction to Small Unmanned Aircraft System (sUAS)" (AVN-5010), a 12-hour class that will be offered on Tuesdays and Thursdays from April 18-27 from 5:30 to 8:30 pm; and Remote Pilot Test Prep (AVN-5020), a six-hour class on Tuesday and Thursday May 2 and 4 from 5:30 to 8:30 pm. The introductory course is designed to instruct both hobbyists and professionals how to fly drones safely and legally. The test prep course is designed help pilots prepare for the FAA certification test and learn about the broad range of industry applications. Students will come away from the AVN-5010 course with their own drone and the necessary software. The information session is free. To register for one or both of the courses, click here. Email [email protected] or call 301-539-4760.
CSM Cause Theatre will present "9 Parts of Desire" at 7:30 pm March 16, 8 pm March 17, and 2 and 8 pm March 18 at the La Plata Campus Fine Arts Center. CSM's Cause Theatre presents a dialogue between the East and West with a focus on Iraqi and American psyche, put into song. Tickets are $5 all ages. May not be suitable for younger audiences. Call 301-934-7828.
Connections deadline is March 17 for the spring edition of CSM's Connections Literary Magazine. Poetry, short stories, and black and white photography are accepted for consideration. For submission guidelines, click here. A reading of the magazine will be held May 5 at the La Plata Campus. Call 301-934-7828.
CSM Jazz Concert and Festival will be held at 8 pm March 31 and 8 pm April 1 at the La Plata Campus Fine Arts (FA) Center. There will be performances by CSM's Solid Brass Big Band Jazz Ensemble with special guest artists The Randy Runyon Trio. Tickets will be $5 in advance, $7 each day of event. Call 301-934-7828.
CSM Online Scholarship Finder opened Feb. 20. College of Southern Maryland students who would like to apply for scholarship funding for the 2017-2018 academic year can apply online using the Scholarship Finder starting Feb. 20. Some scholarships have a March 31 priority deadline; however, most scholarships have a May 31 deadline. Students applying for CSM Foundation Scholarships are required to complete a 2017-2018 FAFSA application, which ensures students are automatically considered for all relevant scholarships. For more information and to submit an application, click here.
For more about the College of Southern Maryland, visit its Leader member page.