Hewitt Sculpture Installed Next to Manhattan Highline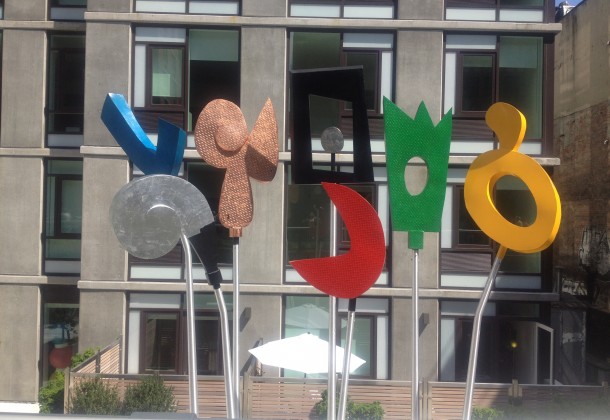 Posted by Tom Watts
Willow's Run Office Park
Leading Edge
There are a lot of ways to stave and reverse blight, including re-imagining public spaces and updating their uses.
In New York City, the High Line is among a bevy of industrial re-imagined, reclamation successes celebrated in Annik La Farge's latest post on her blog "Livin' the High Line." There, she chronicles the ongoing transformation of the High Line.
The High Line is a public park built on a 1.45-mile-long elevated rail structure running from Gansevoort Street to West 34th Street on Manhattan's West Side. The nonprofit responsible for 70 percent of its upkeep explains that it operated as a freight rail line from 1934 to 1980, taking "meat to the meatpacking district, agricultural goods to the factories and warehouses of the industrial West Side, and mail to the Post Office."
[youtube=http://www.youtube.com/watch?v=9o_5cbPDQoY#!]
Ms. La Farge has been chronicling the High Line transformation from the beginning including the nearby, private installation of St. Mary's County native Charlie Hewitt's "Urban Rattle" sculpture in a private rental complex.
"The influence of the High Line's art program will soon be visible in a new  venue," Ms. La Farge announced. ""¦ the luxury rental complex known as Ten23, between 22nd & 23rd Street on Tenth Avenue, will install a piece of sculpture by the artist Charlie Hewitt. Called "Urban Rattle," the work will stand some 20 feet high in the center of the building's patio, just below and on the eastern edge of the park. Hewitt is an American artist (born 1946) whose work includes paintings, sculpture, engraving, woodcuts, print-making and other media. His work has been acquired for collections in the Metropolitan Museum of Art, MoMA, the Whitney, Brooklyn Museum, New York Public Library and the Library of Congress."
Hewitt's sculpture was installed on private property next to the High Line, but public art is an integral portion of the project.
High Line Art was founded in 2009 to produce and commission public art projects on the High Line. "High Line Art has been showcasing a wide array of artworks including site-specific commissions, exhibitions, performances, video programs and a series of billboard interventions. High Line Art invites artists to think of creative ways to engage with the uniqueness of the architecture and design of the High Line and to foster a productive dialogue with the surrounding neighborhood and urban landscape."