Annmarie Maker's Market Set Dec. 16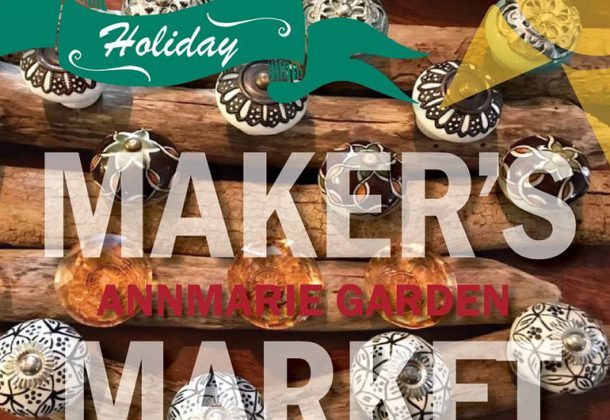 Annmarie Sculpture Garden and Art Center in Solomons will host an indoor holiday market featuring handmade and homemade goods from artisans and craftspeople from across the region.
The market is scheduled from 9 am to 2 pm on Saturday, Dec. 16, to round out a holiday season of unique shopping opportunities in the relaxed and beautiful setting of Annmarie Garden.
The market will feature vendors with all things handmade, homemade, or homegrown; including ceramics, stained glass, hanging baskets, wood and leather crafts, organic skincare products, local distillery products, baked goods, batik and fleece clothing, handmade soaps and candles, herbal teas, ornaments, folk art, and more! Admission to the market area is free.
For more information, visit the website linked to above, call 410-326-4640, or email [email protected].
Also at the Garden
The Kindred: Celebrating Our Ancestors exhibit invited artists to celebrate the stories, people, and places that define their lives. Dozens of pieces are being featured. The exhibit will run until Jan. 28, 2018.
About Annmarie Garden
An affiliate of the Smithsonian Institution, Annmarie Garden is located in scenic Solomons, Maryland. The sculpture garden features a walking path that meanders through the forest past permanent and loaned sculpture, including more than 35 works of art on loan from the Smithsonian Institution and the National Gallery of Art. Annmarie Garden also presents a variety of award-winning special events, gallery shows, and engaging public art programs.
Annmarie Garden's Studio School offers creative classes for all ages and abilities taught by a talented faculty. Annmarie Garden is conveniently located just off Route 2-4, on Dowell Road; open 9 am to 5 pm daily; the Murray Arts Building and Gift Shop are open 10 am to 5 pm daily.
Follow Annmarie Garden Sculpture Garden and Art Center on Facebook. 
For more about Annmarie Sculpture Garden and Art Center, visit its Leader member page.