Lynch Ends 33 Yrs. of Service at Walden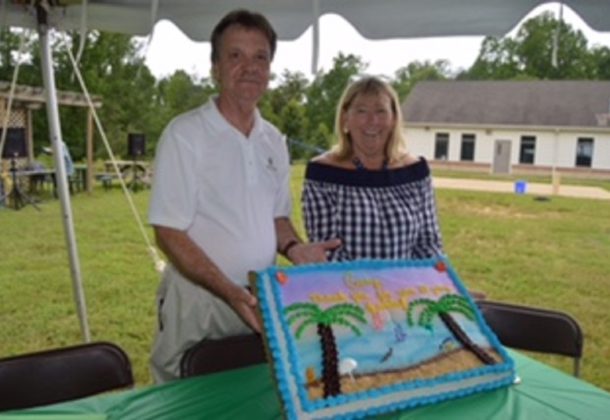 COO Provided 'Inspirational Leadership'
Walden Behavioral Health said goodbye to its chief operating officer, who is leaving the organization after 33 years of service.
Staff members at Walden gathered on Friday, June 23, to honor Gary Lynch and his achievements in the Southern Maryland community and at Walden.
Dr. Kathleen O'Brien, Walden's chief executive, described "a deep sense of indebtedness and a heavy heart" on announcing Mr. Lynch's retirement following 33 years of "inspirational leadership" to the organization.
"Gary has been instrumental in shaping Walden into the outstanding organization it is today, and I wish to place on record my personal gratitude for his steadfast partnership, loyalty and dedication to Walden's mission," Dr. O'Brien said. "I also share the thanks of our board members, staff, and clients for Gary's extraordinary dedication to Walden and the communities of Southern Maryland."
Mr. Lynch is active in community behavioral health planning and serves as member of the Maryland Alcohol and Drug Abuse Administration Provider Advisory Board, the St. Mary's County Alcohol and Drug Advisory Council, and the St. Mary's Mental Health Provider Advisory Group. He is a former chairman of the Mental Health Authority of St. Mary's County.
A staff picnic was held to mark the occasion where staff enjoyed barbecued food, ice cream, music, and party games. The event also was supported by British military personnel (Royal Air Force and Royal Navy) currently based at Naval Air Station Patuxent River, who provided support by setting up the event, allowing staff to relax and celebrate with Mr. Lynch.
Since 1973, Walden has provided a comprehensive range of behavioral health treatment and recovery services designed to provide clients with the help they need, when they need it. Walden has a full continuum of services to ensure each client's journey is planned and delivered with continuity of care in mind. It operates from locations across Southern Maryland in Waldorf, Charlotte Hall, Lexington Park, and California.
Walden's crisis hotline, one of the oldest in the country, is available 24 hours a day seven days at week at 301-863-6661.
Hotline: 301-863-6661
Appointments: 888-912-7366
For more information about Walden Behavioral Health, visit its Leader member page.