The Fire Scout's Lessons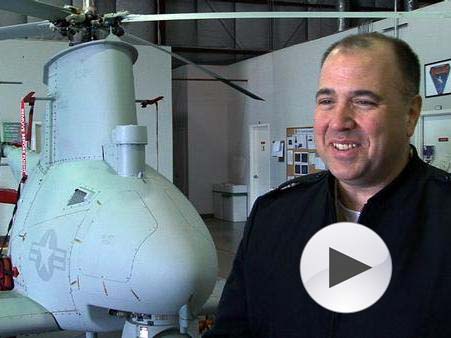 After a challenging nine months fielding a new unmanned system in Afghanistan, a Navy reservist recently visited Patuxent River to share his deployment experience before returning to civilian life in his North Carolina hometown.
It has been a few weeks of transition for Cmdr. Brian Stephens, who left his home in Cherry Point, N.C., in April as a reservist bound for Afghanistan to support the Fire Scout unmanned helicopter's first expeditionary deployment.
[youtube=http://www.youtube.com/watch?v=_N8hhUi8r10]
Before returning to his position as the fleet support team lead at Fleet Readiness Center East in North Carolina, Stephens is meeting with the Fire Scout team here in February to provide lessons learned from his experience as officer-in-charge (OIC). As OIC of a 28-person detachment, Stephens oversaw day-to-day maintenance and operations for the unmanned vehicle.
Stephens said the team was prepared for anything. "Every time something came up that we didn't anticipate, we wanted to make sure to capture those lessons, and make sure we didn't repeat them."
During the deployment, the detachment of three Fire Scout aircraft collected hundreds of hours of full-motion video for Regional Command North, providing critical situational awareness, intelligence, surveillance, and reconnaissance data. Afghanistan's dry, dusty environment posed unique operational challenges for Stephens and the Fire Scout team.
"The site we were working from was pretty remote," Stephens said. "Communication "¦ was difficult, and moving material back and forth, from here to our site in Afghanistan, was challenging, too."
Stephens said he was impressed with the team's work to modify and deliver the system to such a harsh environment. He was also pleased with his fleet support team's efforts to provide engineering and logistic support.
The relatively new fleet support team is providing support to deployed Fire Scout units, ashore and afloat. They have a broad portfolio of products they are providing to detachments and to the program office, Stephens said.
"They were our 9-1-1 to call and say we need help," Stephens said. "It was their answers and quick response that made the difference in us getting Fire Scouts out on a mission supporting our units again."
Stephens returns to his civilian position in Cherry Point in late February with first-hand knowledge of the challenges facing a land-based Fire Scout detachment, and is eager to share his experiences in Afghanistan with his team.
"We show in Afghanistan that with each [Fire Scout] deployment we are getting better and better," Stephens added. "There is a lot of value that it is adding to the units in Afghanistan right now."
Source: PEO(U&W) Public Affairs