Leaner, Meaner Data System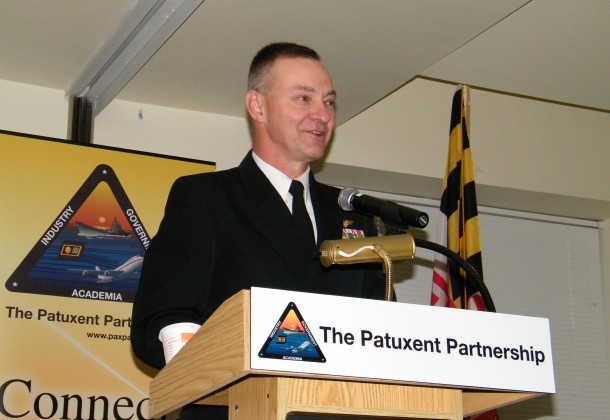 The Patuxent Partnership
Leading Edge
Rear Adm. Charles Smith was self-deprecating, yet very serious, during a Patuxent Partnership briefing on the Navy's information technology systems at the Southern Maryland Higher Education Center Wednesday morning.
Smith, Program Executive Officer for Enterprise Information Systems (PEO EIS), said his job, overseeing upgrades of the Navy's digital infrastructure, is short on spice and long on bureaucratic negotiation.
"In the IT world, everything is [enterprise-wide]," Smith said. "I have a lot of people we have to please."
The assignment is a far cry from Smith's days as a Navy pilot and carrier commander.
"There's nothing sexy in there," Smith said of his portfolio of responsibility. "The entire system runs on our network and communications foundation. … If your paycheck is screwed up, it's probably my fault."
True, nothing at EIS goes supersonic, but the Navy would be hard pressed to do its job without the program. Smith noted that the Navy's network is capable of truly incredible things, noting, "During the [Japanese] tsunami, we were able to get parts on a ship in three days."
However, Smith cautioned against believing the flashy tech image of NCIS portrayed on television, saying, "That is not how we function today. A lot of the cases are still handled on paper."
The Navy's many disparate computer networks have begun to consolidate into true enterprise-wide systems in the last decade, but they can consolidate further, Smith said.
"Somebody finally woke up and said, 'This costs a lot,'" Smith said.
Getting the mission focused Navy to re-tread for an enterprise-wide mentality is difficult, Smith said, given the services' tradition of self-reliance in the absence of communications. The Navy still has more than 100 computer systems under 40 commands.
"The Navy still has a mindset that it's 1812," Smith said. "We now have to get a more enterprise perspective."
And that means consolidating systems and doing more with less support.
"One of our biggest costs is manpower," Smith said. "We want to make the grunt on the ground equal to six. … Our challenge is how we are going to do this. … What is expected this fall, this winter, is that we're going to go through another round of cuts."
Smith said this has left the Navy's IT community asking, "How much rebar can you pull out of the foundation before it starts cracking. … I can't keep the system up without maintaining the foundation."
As an example, Smith said the Navy Enterprise Resource Planning system, which will soon support the Navy's business operations, nearly broke when administrators tried to skimp on maintenance and help desk personnel.
Smith said he has been told to cut $1.7 billion, 28 percent, out of his budget. "We've got to get the money and burden out of IT," Smith said. "I kind of have a gun to my head. The money has already been taken away."
If that wasn't enough, Smith explained that the American military's success today is not defined by overwhelming manpower but by information dominance. That dominance must be constantly defended from cyber attack.
"We are at war today," Smith said of cybersecurity. "Our potential adversaries can be 15 years old or peer nations."