Lawmakers Push for UMD-Led Microtech Initiative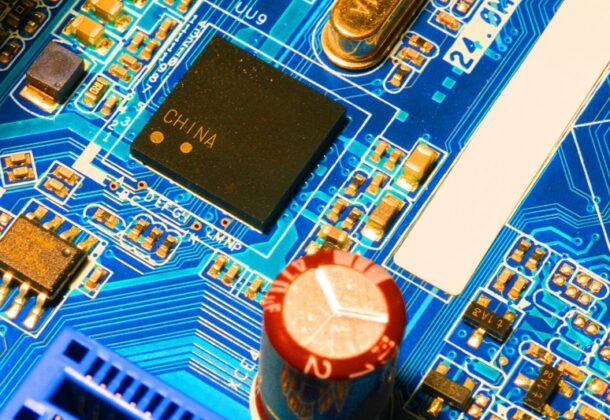 A circuit board contains multiple examples of important microtech innovation. The US Defense Department's Microelectronics Commons aims to close gaps in America's ability to bring new microelectronics technology to market. (DoD photo by C. Todd Lopez)
Rep. Steny H. Hoyer joined a bipartisan group of more than 20 of his congressional colleagues in writing to US DefSec Lloyd Austin in support of the University of Maryland-led Mid-Atlantic Semiconductor Collaborative proposal to contribute to the Department of Defense's Microelectronic Commons initiative.
The Microelectronics Commons, which DoD is in the process of implementing, will stand up a national network to bolster US production and supply chains for microchips and semiconductors needed for emerging technologies that will be critical to our national security, such as quantum computing and 6G telecommunications. It is funded through the Creating Helpful Incentives to Produce Semiconductors, or CHIPS, for America Defense Fund, which was established through the CHIPS and Science Act.
"We write in strong support of the Mid-Atlantic Semiconductor Collaborative (MASC) proposal, led by the University of Maryland, College Park, and Booz Allen Hamilton, in response to the Department of Defense (DoD) Microelectronic Commons solicitation," the lawmakers write. "This collaboration includes some of the leading experts in microelectronics development and manufacturing and is uniquely positioned to advance microelectronics technologies in fields critical to the DoD."
The lawmakers go on to outline key strategic advantages that MASC offers – from geographic proximity to federal defense agencies to having collaborators involved in all key parts of the production process – which would help more quickly advance DoD's emerging technology goals.
They note, "This would allow for rapid design and innovation, speeding up the development of semiconductor technologies for the DoD in addition to the private sector. Consequently, this network will have significant economic impacts on the Mid-Atlantic region, supporting the growth of small and large businesses with both defense and commercial applications."
Additionally, they point to how MASC will help strengthen America's homegrown technology workforce, stating, "MASC will prioritize growing and diversifying the US microelectronics workforce, particularly in semiconductor manufacturing with defense applications. MASC's university, community college, and HBCU members, who educate thousands of STEM students, will partner with semiconductor manufacturers and federal defense agencies to develop workforce pipelines focused on microelectronics development and manufacturing of high priority to the Department."
Congressman Hoyer (D-MD-05) joined in sending this letter with Sens. Chris Van Hollen (D-MD), Shelley Moore Capito (R-WV), Ben Cardin (D-MD), Bob Casey (D-PA), Chris Coons (D-DE), John Fetterman (D-PA), Thom Tills (R-NC), and Mark Warner (D-VA), as well as Reps. Dutch Ruppersberger (MD-02), Gerry Connolly (VA-11), Dwight Evans (PA-03), Valerie Foushee (NC-04), Glenn Ivey (MD-04), Summer Lee (PA-12), Kweisi Mfume (MD-07), Jamie Raskin (MD-08), John Sarbanes (MD-03), Glenn Thompson (PA-15), and David Trone (MD-06).
The full text of the letter can be read here.
Follow Congressman Hoyer on Facebook, Twitter, and Instagram.
For more information about Rep. Steny H. Hoyer, visit his Leader member page.