Join Summer Fun at Kid, Teen College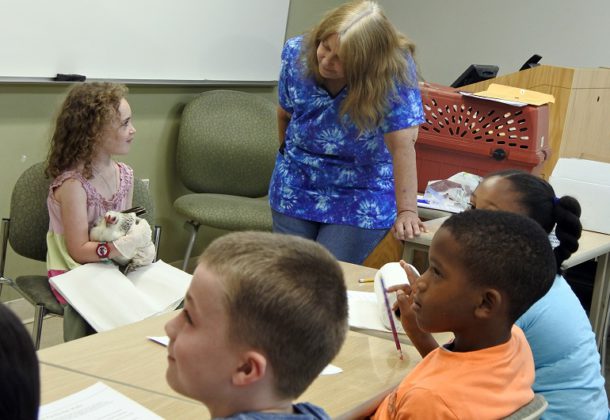 Abigail Frantom, 7, talks to instructor Carole Timbrook while cuddling a visiting chicken in the Pets and Vets class at CSM's Kids' and Teen College June 19. Fellow campers, foreground, from left, Christopher Williams, 7, Cary Spires, 9, and Lyla Smith, 8, listen to a counselor. There is still time to join in the summer fun.
College of Southern Maryland Kids' and Teen College programs have begun at CSM's campuses in La Plata, Leonardtown, and Prince Frederick. There's plenty of summer fun to go around.
On the program's first day, June 19, parents and campers were busy finding their classrooms. Counselors were reviewing clipboards and checking in students, all while learning the campers' names and helping them feel welcome and comfortable. Instructors were in the classrooms, pulling out class materials.
During the summer, more than 300 classes will be offered through this popular summer program — classes on cooking, virtual reality technology, LEGO games, art, theater, video game animation, Minecraft, photography, robotics, sports, and much more.
On this first day of camp, however, Rudee Brothers, 17, of Waldorf was concentrating on the Pets and Vets class, a morning class at the La Plata Campus. Ms. Brothers was assigned to be the class counselor for the week. The Pets and Vets class is designed to teach campers how to care for pets, make a birdhouse, learn about endangered species and discover the duties of a veterinarian, and the class features regular opportunities to meet and learn about different pets and farm animals.
Brothers read and re-read all the information about the incoming students on her clipboard as she stood with Olivia Kapinos, 14, of White Plains, a counselor in training, outside the classroom.
"This is going to be fun!" Ms.  Brothers said to the first camper to check in, Cary Spires, 9. Ms. Brothers made a quick connection with Spires when they realized that they both had attended Diggs Elementary School.
Christopher Williams, 7, another camper soon checked in as well. "I want to be a veterinarian," he said. "That's been my dream since I was 3."
The instructor for the class, Carole Timbrook of Charlotte Hall, was pleased to see that Ms. Brothers was the assigned counselor. "She is very good," Ms. Timbrook said. "She loves the animals." This is Ms. Timbrook's fourth year teaching a Kids' College class.
The owner of a 25-acre horse farm, Ms. Timbrook likes to bring in her animals for the campers to hold or touch. "There should be something every day," she said.
The first day included an introduction to Ms. Timbrook's hen named "Mama Chicken," who clucked peacefully as the campers took turns touching her feet, observing the coloration of her feathers, and gently holding the patient bird.
While Ms. Timbrook is responsible for teaching the class, Ms. Brothers is expected to assist when needed and escort the campers on bathroom, handwashing, and snack breaks and get them safely from one class to another. She is also training Ms. Kapinos to someday take on the responsibility of being a counselor. It's all part of the cycle that Brothers and so many of the counselors have followed. They spend their summer at CSM first as a camper and work their way up to counseling positions.
Ms. Brothers started out with the Kids' and Teen College program as a camper, enjoying five summers in activities such as youth camp, spa camp ("that was the best thing ever," she said), Harry Potter camp, and Hunger Games camp. She served a year as a counselor in training and the next year as half a CIT and a counselor. This is her second year as a counselor, and an older sibling also worked as a counselor for the CSM program.
The experience has been good, both as a camper and as a counselor. "I used to have really bad anxiety," Ms. Brothers said. "Going to camp and working here has helped me grow up. I became used to a variety of personalities. I love working with the kids."
Ms. Brothers hopes to pursue a career as a music teacher, so the camp counselor experience gives her valuable experience. As she has gone through the program, Brothers sees the value to the students beyond just having fun.
"I feel like it helps the campers grow and do things they haven't done before," she said.
"What's up, man? Ready to do some math?" said camp counselor Reid Hancock, 19, of La Plata to a shy new camper at the class next door to Pets and Vets. Mr. Hancock shook the camper's hand and then ushered him in to the LEGO classroom. As Mr. Hancock and the father watched, the younger camper immediately made a friend and was invited to join in.
A camper himself in past summers, Mr. Hancock took all the computer and robotics classes he could, he said. "I loved it here. I came here for years," he said. "I have pretty much come full circle now as a counselor."
Lauren Sutten, 22, of Cobb Island, lead coordinator of Kids' and Teen College, has also come full circle. She had six years of Kids' and Teen College experience, first as a camper, then as a counselor, an assistant coordinator and now as lead coordinator, responsible for training the coordinators for the programs at the Leonardtown and Prince Frederick campuses and serving as coordinator of the La Plata Campus program.
Ms. Sutten, who during the school year works as a special education teacher at Berry Elementary School, said she likes the leadership aspect of her job as well as the opportunity to work with children
"Kids' College is a great learning experience for kids. It gives them great exposure to the college campus and aspects of college, while engaging them in exciting lessons," Ms. Sutten said. "The program can also provide students with a pathway to bigger leadership opportunities and eventually a paid job."
To learn more, visit the college's website. To register, click here.
For more about the College of Southern Maryland, visit its Leader member page.