John Hodgman Will Deliver This Year's Twain Lecture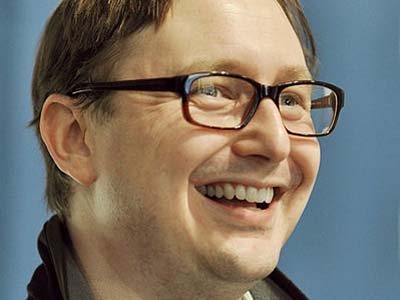 Posted by St. Mary's College of Maryland
Bay Leader
Author, actor, and humorist John Hodgman will deliver this year's Twain Lecture on American Humor and Culture on Saturday, April 20, at St. Mary's College of Maryland. "An Evening with John Hodgman" will begin at 7:30 p.m. in the Michael P. O'Brien Athletics and Recreation Center Arena at St. Mary's College and will be followed by a book signing. Live music by The Rusty Spurs will precede the event, starting at 6:30 p.m. Both music and lecture are free and open to the public. For more information, please contact Ben Click at [email protected] or 240-895-4253.
Hodgman's latest book, "That Is All" (2012), concludes his trilogy of satiric almanacs of Complete World Knowledge with "The Areas of My Expertise" (2006) and  "More Information than You Require" (2009). All three were New York Times bestsellers. His writing has been published in McSweeney's Quarterly Concern, the Paris Review, and The New York Times Magazine.
Acclaimed for his acting as well as his writing, Hodgman may be best known for his correspondent work as the "Deranged Millionaire" on Comedy Central's "The Daily Show with Jon Stewart" and for his personification of a PC opposite Justin Long's portrayal of a Mac in Apple's "Get a Mac" advertising campaign. He has also been a guest on National Public Radio's "This American Life."
Hodgman's talk will mark the 7th annual Twain Lecture at St. Mary's College. The Twain Lecture Series began in 2007, with a talk by Pulitzer Prize-winning journalist Ron Powers, author of "Mark Twain: A Life." Since Powers' inaugural lecture, the Twain Lecture Series has hosted a wide range of speakers, including Twain scholars Robert Hirst, general editor of the Mark Twain Project and curator of the Mark Twain Papers, and humorists such as David Rakoff, Thurber Prize-winning author of "Half Empty."
In addition to the annual spring lecture, the Twain Lecture Series sponsors contests in humor writing and art for students and alumni and features smaller, specialized events. The second annual "Assault of Laughter" Writing Contest closed on April 1, 2013 (April Fool's Day) and the first annual "Ignorance of Art" Contest closed on February 14, 2013. Winners of both contests will be announced in April at "An Evening with John Hodgman."
In fall of 2012, the Twain Lecture Series hosted the first "Laughing to the Polls" event, featuring comedian Jimmy Tingle, and the first "Music & Truth" performance, featuring musicians John Reynolds and Gary Kirkland. Both events will be bi-annual fixtures of the Twain Lecture Series.
"An Evening with John Hodgman" is sponsored by the Twain Lecture Series on American Humor and Culture and the St. Mary's College Student Programs Board.