Japan's Air Force Deploys First F-35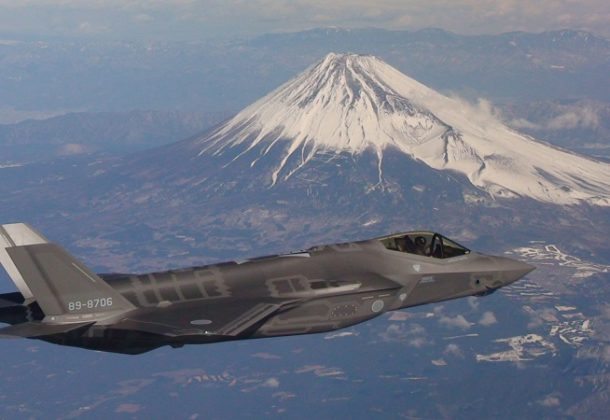 Morning Coffee is a robust blend of links to news around the internet concerning the Naval Air Station Patuxent River

economic community. The opinions expressed here do not reflect opinions of the Leader's owners or staff.
The Japanese air force has deployed its first operational F-35 at Misawa Air Base, reports Business Insider. US officials at the base welcomed the development, with the commander of the US 35th Fighter Wing, Col. R. Scott Jobe, saying US pilots look forward to training alongside their Japanese counterparts and "continuing to enhance the safety and security of Japan together."
Brig. Gen. Jennifer Buckner has been assigned to serve as director of cyber within the US Army's G-3/5/7 office in Washington, DC, reports ExecutiveGov.com. She is formerly deputy commander of Joint Task Force-ARES under the US Cyber Command.
China on Sunday criticized a US report that cast Beijing as a potential nuclear adversary and called on Washington to reduce its own much larger arsenal and join in promoting regional stability, reports Military Times.
Plans to move a US Marine air base to the southern part of Okinawa might be back on the table after the recent mayoral election on the island, reports The Strait Times. Japanese Prime Minister Shinzo Abe welcomed the victory of a ruling party-backed candidate in a mayoral election, vowing to press ahead with a controversial plan.
Worried about militants sneaking into a Chinese region from Afghanistan, Beijing is in talks with Kabul over the construction of a military base, reports Military.com. The army camp will be built in Afghanistan's remote Wakhan Corridor, where witnesses have reported seeing Chinese and Afghan troops on joint patrols.
Boeing is in talks with the Indian Navy to sell its F/A-18 Hornet fighter jets in a bid to gain a bigger share of the defense market there, reports Bloomberg. The company is also seeing opportunities for its KC-46 tanker in India and other countries. India's navy last year invited proposals for 57 jets for its aircraft carriers, while its air force is seeking at least 100 planes.
A cross-section of US military aircraft and equipment will be showcased through static displays and aerial demonstrations at the Singapore Airshow, including the C-17 Globemaster III, RQ-4 Global Hawk, E-3B Sentry, KC-135 Stratotanker, B-52 Stratofortress, P-8 Poseidon, AH-6 Little Bird, F-35B Lightning II, F-22 Raptor, F-16 Fighting Falcon, and F-18 Super Hornet, reports todayonline.com. The US' top diplomat responsible for foreign military sales said Monday this underscores the United States' deep commitment to the region.
The US Air Force has whittled down candidates for its new light attack aircraft, reports Washington Examiner, to Textron's AT-6 Wolverine and the A-29 Super Tucano by Sierra Nevada and Embraer. The two finalists from the service's Light Attack Experiment will now undergo a battery of testing.
FCW has announced its 2018 Fed 100 Award winners. The "list of winners, and the accomplishments they drove on so many different fronts, is a testament to the talent and dedication of IT leaders throughout both government and industry."
The GSA has expanded the availability of contractors on its government-wide hybrid acquisition vehicle to include 161 small businesses, reports Federal Times. The contracts enable agencies to acquire a range of services, such as program management, management consulting, logistics, engineering, scientific, and financial services, all under one contract.
The Trump administration said it will continue much of the Obama administration's nuclear weapons policy, but take a more aggressive stance toward Russia, reports Military Times. It said Russia must be convinced it would face "unacceptably dire costs" if it were to threaten even a limited nuclear attack in Europe.
North Korea slammed President Donald Trump's State of the Union address and said its nuclear capabilities would "deter Trump and his lackeys from showing off on the Korean Peninsula. If Trump does not get rid of his anachronistic and dogmatic way of thinking, it will only bring about the consequence of further endangering security and future of the United States," Military Times reports on comments carried by North Korea's official Korean Central News Agency.
The US Navy commissioned its newest warship, the USS Omaha, a futuristic, $440 million vessel named for the Nebraska hometown of billionaire Warren Buffett, who was on hand for the ceremony, reports The Virginian-Pilot.
For the past year, the Maryland National Guard unit based out of Towson has been deployed in Afghanistan. Its primary mission has been to train, advise, and assist the Afghan National Security Forces. In their spare time, the service members have led a campaign of humanitarian work, reports The Baltimore Sun, that has helped young girls get educated, delivered food and supplies to abused women and orphans, provided safe play areas for children, and improved conditions for young mothers.
Contracts:
Lockheed Martin Corp., Lockheed Martin Aeronautics Co., Fort Worth, Texas, is being awarded a not-to-exceed $119,707,000 for modification P00005 to a previously issued firm-fixed-price delivery order 0132 placed against a basic ordering agreement (N00019-15-G-0057). This modification provides for the procurement of initial air vehicle deployment spares packages in support of Air Force F-35 air vehicle delivery schedules. Work will be performed in Fort Worth, Texas (24.4 percent); El Segundo, California (9.1 percent); Owego, New York (8.6 percent); Samlesbury, United Kingdom (7.2 percent); Cheltenham, United Kingdom (6.2 percent); Nashua, New Hampshire (5.8 percent); Torrance, California (5.5 percent); Orlando, Florida (4.9 percent); Cedar Rapids, Iowa (3.7 percent); San Diego, California (3.6 percent); Phoenix, Arizona (3.1 percent); Melbourne, Florida (3.1 percent); Irvine, California (2.5 percent); N. Amityville, New York (2.4 percent); Windsor Locks, Connecticut (2.2 percent); Baltimore, Maryland (2.2 percent); Papendrect, Netherlands (1.9 percent); Rolling Meadows, Illinois (1.8 percent); and Alpharetta, Georgia (1.8 percent), and is expected to be completed in July 2022. Fiscal 2017 aircraft procurement (Air Force) funds in the amount of $119,707,000 will be obligated at time of award, none of which will expire at the end of the current fiscal year. The Naval Air Systems Command, Patuxent River, Maryland, is the contracting activity.
APTIM Federal Services LLC, Alexandria, Virginia, is being awarded $16,812,707 for firm-fixed-price task order N3943018F4044 under a previously awarded multiple award construction contract (N39430-15-D-1632) for maintenance and repair of underground and aboveground fuel pipelines at Defense Fuel Support Point Guam. Work will be performed in Guam, and is expected to be completed by January 2021. Fiscal 2018 defense working capital (Defense Logistics Agency) contract funds in the amount of $16,812,707 are obligated on this award and will not expire at the end of the current fiscal year. One proposal was received for this task order. The Naval Facilities Engineering and Expeditionary Warfare Center, Port Hueneme, California, is the contracting activity.
Hensel Phelps Construction Co., Fort Meade, Maryland, was awarded a $7,235,000 modification (P00030) to contract W912DR-14-C-0016 for operations and battle bridge copper walls. Work will be performed in Fort Meade, Maryland, with an estimated completion date of Sept. 9, 2020. Fiscal 2014 military construction funds in the amount of $7,235,000 were obligated at the time of the award. US Army Corps of Engineers, Baltimore, Maryland, is the contracting activity.