Iranian Drone Buzzes F/A-18 Preparing for Carrier Landing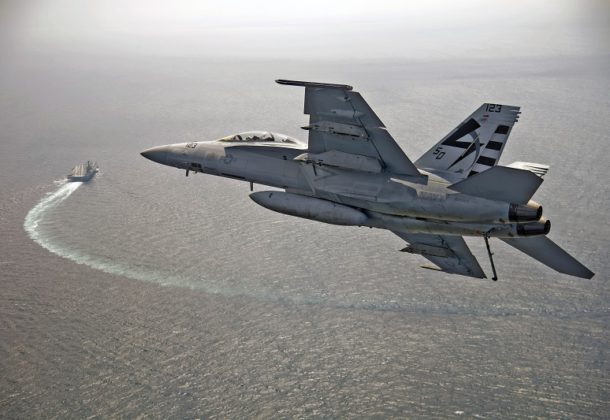 Morning Coffee is a robust blend of links to news around the Internet concerning the Naval Air Station Patuxent River

economic community. The opinions expressed here do not reflect opinions of the Leader's owners or staff.
An unarmed Iranian drone came within 100 feet of a US Navy warplane as it prepared to land on an aircraft carrier in the Gulf, reports Reuters.  Despite repeated radio calls to stay clear of the US plane, the Iranian drone "executed unsafe and unprofessional altitude changes" close to the F/A-18E. The warplane was in a holding pattern and preparing to land aboard the USS Nimitz aircraft carrier.
Two of the five Marine commanders fired this year were relieved in part due to their attitude toward women, which Assistant Commandant Gen. Glenn Walters called "progress," according to the Marine Corp Times.
North Korea is examining plans for attacking Guam to contain US bases there, reports PBS.org, seeking to create an "enveloping fire" in areas around Guam with medium- to long-range ballistic missiles. The US territory is home to Andersen Air Force Base.
The UN approved extraordinary new sanctions on North Korea, over the weekend, Time reports fast-paced diplomacy across multiple continents followed as  nations raced to ensure that North Korea's biggest trading partners actually carry them out, an elusive task that has undercut past attempts to strong-arm Pyongyang into abandoning its nuclear weapons.
President Trump's threats to hold Iran in noncompliance of the nuclear accord could backfire in North Korea, says Politico, leaving the US fighting nuclear threats on two fronts.
The US deportations slower than during the Obama administration , reports Politico. Despite Trump's immigration crackdown, new data from US Immigration and Customs Enforcement shows roughly 16,900 people removed per month from Feb. 1 to June 30, 2017. If deportations continue at that rate through the Sept. 30 end of the fiscal year, ICE   will have removed fewer people than during the slowest years of Barack Obama's presidency.
Trump is not ready to declare the nation's opioid crisis a a national emergency, as recommended by a commission he organized, reports the Washington Post. The "best way to prevent drug addiction and overdose is to prevent people from abusing drugs in the first place," he said. "If they don't start, they won't have a problem. If they do start, it's awfully tough to get off. So if we can keep them from going on — and maybe by talking to youth and telling them: 'No good, really bad for you in every way.' But if they don't start, it will never be a problem."
Out of Huntsville, AL, Aviatiaon Week reports, the Army is eyeing the F-35 as an airborne sensor for integrated air and missile defense, similar to how the E-2D Advanced Hawkeye supports the Navy with early detecting and tracking of airborne threats.
SpaceX is scheduled to launch a third Dragon cargo mission to the International Space Station Sunday, Aug. 13, 2017, from the Kennedy Space Center, reports AmericanSpace.com. Dragon, loaded with scientific cargo, will spend three days chasing the orbiting laboratory. Assuming an on-time launch, Dragon will be robotically captured by the station's 57.7-foot-long Canadarm2 robotic arm  Wednesday, Aug. 16, for a month-long stay at the ISS.
The orbital altitude of the International Space Station was increased by 1443 feet Wednesday in accordance with the flight program, according to a spokesperson at the Russian Mission Control Center, reports SputnickNews.com. The orbit's correction creates the necessary conditions for successful landing of the Soyuz MS-04 manned spacecraft, which will bring Russian cosmonaut Fyodor Yurchikhin and US astronauts Jack Fischer and Peggy Whitson of the Expedition 52 back to the Earth in September.
Carla Del Ponte, former war crimes prosecutor, resigns from a UN Syria commission, saying the commission does absolutely nothing, reports NPR. The commission was investigating human rights violations, released about a dozen reports on atrocities, but the UN never referred Syria to the International Criminal Court.
Trump's National Security Adviser H.R. McMaster becomes populists' top target as tensions rise between McMaster and Trump's chief strategist Steve Bannon, reports the Washington Examiner. The clash is ideological, suggesting their conflict more intractable and prolonged than the infighting that preceded it.
Flags in Maryland were lowered Wednesday for Xavier Alec Martin, the 24-year-old sailor was from Halethorpe, Md. who died in June when the USS Fitzgerald, collided with a container ship off the coast of Japan, reports the Navy Times. Martin was one of seven sailors killed in the collision.
Contracts:
Jacobs Technology Inc., Tullahoma, Tennessee, is being awarded an indefinite-delivery/indefinite-quantity contract with an estimated maximum value of $4,600,000,000. A fixed-price incentive task order in the amount of $4,317,327 is being issued concurrent with the contract award. The predominant contract types will be cost-plus-incentive-fee and fixed-price incentive. Under this follow-on contract, the contractor provides products and services supporting concurrent test, training and operations for missions executed by or through the Missile Defense Integration and Operations Center mission execution platform, and the execution of the Missile Defense Agency enterprise communications and information technology environment. The work will be performed predominantly in Schriever Air Force Base, Colorado; Huntsville, Alabama; Fort Belvoir, Virginia; and Dahlgren, Virginia. Fiscal 2017 research, development, test and evaluation funds in the amount of $4,000,000 are being obligated on this task order. The ordering period is from Aug. 9, 2017, through Aug. 8, 2022, and may be extended to 8.5 years via execution of award terms and an option; extension(s) will not affect the estimated maximum value identified above. This contract was competitively procured via publication on the Federal Business Opportunities website with two proposals received. The Missile Defense Agency, Schriever Air Force Base, Colorado, is the contracting activity (HQ079617D0001).
Lockheed Martin Space Systems Co., Littleton, Colorado, has been awarded a $45,482,492 cost-plus-incentive-fee modification (P00450) for military code (M-Code) early use software. The contract will enable M-Code tasking, monitoring, and signal in space for current and future global positioning system satellites. Work will be performed in Maryland, Pennsylvania, and Colorado, and is expected to be completed December 2019. This award is the result of a sole-source acquisition. Fiscal 2017 research and development funds in the amount of $15,300,000 are being obligated at the time of award. Space and Missile Systems Center, Los Angeles Air Force Base, California, is the contracting activity (FA8807-08-C-0010).