Interact With Artists at Annmarie Garden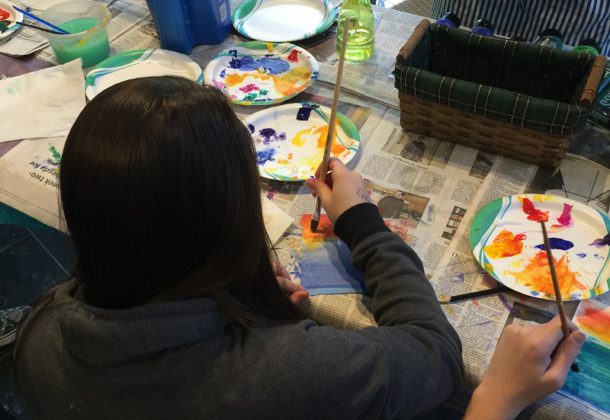 Visitors can interact with artists at Artists In Action: Temporary Studio Experience at Annmarie Sculpture Garden and Art Center in Solomons from 10 am to 5 pm each day through March 1, 2017.
The details of each participating artist, where they are from, and the medium they work in, follows.
Artists in Action 2017 schedule
EJ Barnes of Cambridge, MA; through Feb. 4; watercolor/comics
Devin Mack of Towson, MD; through Feb. 5; wire sculpture
Laura Laird of Pasadena, MD; Jan. 30-Feb. 5; collage
Jen Poteet of Sumerduck, VA; Jan. 29-Feb. 4; painting
Diana Manchak of Fort Washington, MD; Jan. 29-Feb. 4; ceramic
Mickey Kunkle of Solomons, MD; Jan. 29-Feb. 4; polymer
Carol Waite of Fredericksburg, VA; Feb. 5-12; sumi-e
Ann Crain of St. Leonard, MD; Feb. 6-11; mixed media
Jerry Wellman of Santa Fe, NM; Feb. 7-12; mixed media
Suzanne Shelden of Prince Frederick, MD; Feb. 12-19; painting
Mary Blumberg of Solomons, MD; Feb. 12-19; watercolor
Linda Prentiss of Ronkonkoma, NY; Feb. 14-21; monotype printing
Felicia Reed of Upper Marlboro, MD; Feb. 11-18; fiber
Ann Preston of Hollywood, MD; Feb. 13-March 1; watercolor/monotype printing
Rob Brownlee-Tomasso of Denton, MD; Feb. 23-March 1; large-scale painting
Iris Hall-Wiley of California, MD; Feb. 24-March 1; painting
Aloysius Savant of Grasonville, MD; Feb.20-26; magnetic ink painting
Anika Schneider of Laytonsville, MD; Feb. 24-March 1; painting
For a few weeks, Annmarie's spectacular Main Gallery will be transformed into artist studios, where visitors will have the opportunity to observe and interact with artists as they work. This exciting time at Annmarie Garden provides a unique retreat and experimental space for artists to develop new works, display and sell their work, to network with other artists, and to share their creative process.
Visitors will be able to watch, learn, ask questions, and in some cases, become engaged in an art project. The participating artists are encouraged to create a hands-on experience for guests, which may include an invitation to experiment with materials and/or process, or collaboration on an idea or design. Artists in Action is a wonderful opportunity to get an up close look at the working and creative process of an artist.
For additional information call 410-326-4640 or visit the website linked to above.
About Annmarie Garden
An affiliate of the Smithsonian Institution, Annmarie Sculpture Garden & Arts Center is located in scenic Solomons, Maryland, on the Chesapeake Bay. The sculpture garden features a walking path that meanders through the forest past permanent and loaned sculpture, including more than 35 works of art on loan from the Smithsonian Institution and the National Gallery of Art. Annmarie also presents a variety of award-winning special events, rotating gallery shows, and engaging public art programs. Annmarie's Studio School offers creative classes for all ages and abilities taught by a talented faculty. Annmarie Garden is located just off Route 2/4, on Dowell Road in Solomons.
To learn more about Annmarie Garden, visit their Leader member page.