Hundreds to Participate, Volunteer in Mercy Mission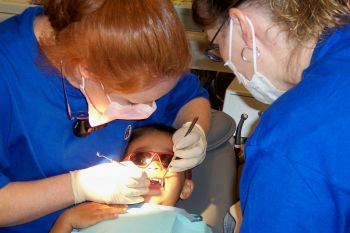 Posted by GTMR, Inc.
Pax Leader
The numbers are staggering.
Over 800 individuals have been pre-screened to receive free dental care at Chopticon High School in Morganza, Maryland this weekend as part of the Mission of Mercy event being sponsored by GTMR, Inc. and several other local businesses and organizations.
More impressive is another statistic: Over 640 people have volunteered to work this two-day event.
With such a large patient volume, Mission of Mercy organizers are warning that space for walk-in patients will be limited. They recommend that walk-in patients arrive early in the morning on Friday or Saturday if they want to be served.
It has been a tough economy for many in Southern Maryland over the last few years, and many of those folks have been making ends meet at the expense of their health.
The Southern Maryland Mission of Mercy project is part of a national non-profit effort to provide dental care for people without dental benefits, those who have lost their jobs, the under insured, people in very low paying jobs and especially Veterans.
Leading the mission are 400 outstanding dentists, dental assistants, hygienists, oral surgeons, medical doctors, pharmacists, nurses and volunteer members of our communities. MOM will provide an estimated $600 of care per person for adults, 19 years of age or older.  Their efforts will eliminate dental diseases which not only cause pain, but can adversely affect total body health. Patients will receive more than the palliative care they would receive at the local hospital emergency rooms.
If you have questions or would like to volunteer, visit the Facebook site or the web site.