Hoyer Wants Hearings on Rise of Hate Crimes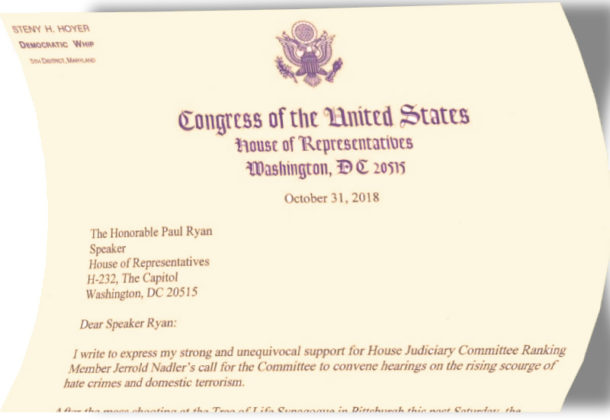 House Democratic Whip Steny H. Hoyer recently sent a letter to House Speaker Paul Ryan supporting House Judiciary Committee Ranking Member Jerrold Nadler's call for congressional hearings on the recent rise in hate crimes and domestic terrorism in the US.
Whip Hoyer (D-Md., 5th) says in the letter that after the mass shooting at the Tree of Life Synagogue in Pittsburg in October, the issue needs to be addressed on a national scale.
"The House of Representatives can no longer deny what statistics have amply and unmistakably demonstrated over the course of the last several months: domestic terrorism and hate directed at minority religious and ethnic groups is on the rise in the United States, particularly anti-Semitism," Whip Hoyer says in the letter.
Mr. Hoyer reminded Speaker Ryan that what the House chooses to do with its time is a reflection of its values and priorities. Whip Hoyer challenged Speaker Ryan to reflect on whether the House is able to "summon the will to confront the promoters of hate in this country and their followers." If not challenged, the malign elements of society will win, at least in the short-term. Whip Hoyer said that Congress needs to intervene in this time that includes escalating racism, anti-Semitism, and hate. "It is essential that the House meet its responsibilities not only to expose this crisis but fashion effective responses to it without delay," Whip Hoyer writes in the letter.
The letter was sent Oct. 31, 2018. It cites the Anti-Defamation League's annual Audit of Anti-Semitic Incidents, which reports that "the number of anti-Semitic incidents in the US rose 57 percent in 2017 – the largest single-year increase on record and the second highest number reported since ADL started tracking such data in 1979. The sharp rise was in part due to a significant increase in incidents in schools and on college campuses, which nearly doubled for the second year in a row."
Whip Hoyer also lamented the sharp rise of hate groups across the US during the past two decades. He cited the Southern Poverty Law Center, which reports that "the number of hate groups rose to 953 in 2017, from 917 in 2016. Within the white supremacist movement, neo-Nazi groups saw the greatest growth – soaring by 22 percent. Anti-Muslim groups rose for a third straight year."
The letter is available to view online.
Follow Congressman Hoyer on Facebook and Twitter.
For more information about House Democratic Whip Steny H. Hoyer, visit his Leader Page.