Hoyer Visits Mallows Bay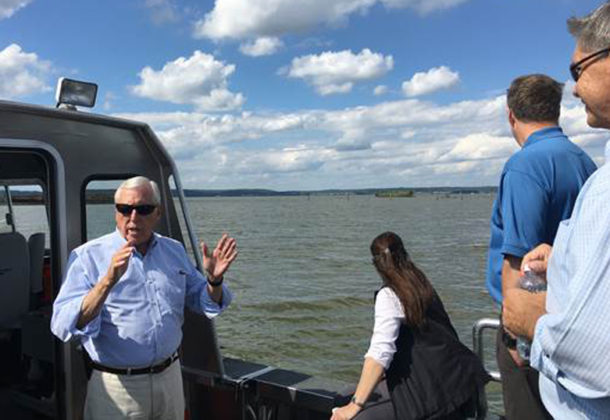 On a recent October day, Congressman Steny H. Hoyer (MD-5) visited Mallows Bay in Charles County to meet with officials and discuss the site's nomination as a National Marine Sanctuary.
The congressman took a tour by boat of the 14-square-mile area in the tidal Potomac River. In September 2014, Mallows Bay was nominated by the state of Maryland to be designated as a National Marine Sanctuary. The nomination has received broad and enthusiastic support from the community.
"I was pleased to tour Mallows Bay today and discuss its nomination as a National Marine Sanctuary," Congressman Hoyer said. "This designation will increase opportunities for tourism and economic development while safeguarding maritime heritage and cultural history here in Southern Maryland. I will continue to monitor the nomination process, and I hope NOAA will make a final designation in the coming year."
Congressman Hoyer was joined on the tour by representatives from NOAA, Director of the Maryland Historical Trust Elizabeth Hughes, Deputy Secretary for the Maryland Department of Natural Resources Joanne Throwe, Charles County Commissioner Ken Robinson, and Charles County historian Steve Bunker.
Mallows Bay has the unique attraction of being home to a fleet of "ghost ships." While not actually haunted, a ship graveyard lies below the water. During World War I, American ship builders were making wooden steamships in a frenzy. But as the war ended, the ships were unused and now unwanted and ended up at Mallows Bay. Attempts were made to get rid of them in various ways, but they mostly sank to the bottom of the river and nature took over, turning them into an integral part of the ecosystem of plant and animal life under water.
Find out more about the ghost ships and the beauty of Mallows Bay by visiting the Trust for Public Land website.
Follow Congressman Hoyer on Facebook and Twitter.
For more information about House Democratic Whip Steny H. Hoyer, visit his Leader Page.