Hoyer Takes Lead on Tech Modernization Efforts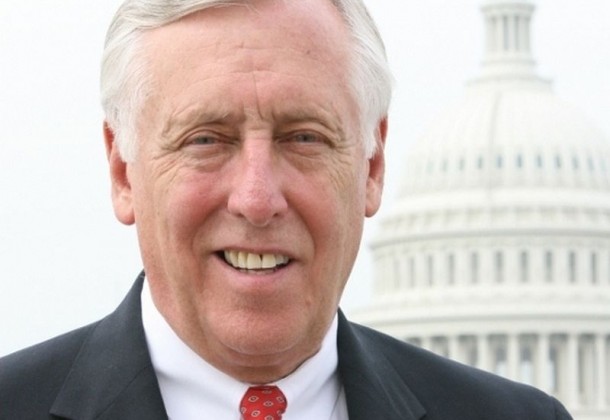 House Democratic Whip Steny H. Hoyer (MD) has introduced a bill sent to Congress by the White House for an Information Technology Modernization Fund, an innovative new way to upgrade and modernize government technology and significantly strengthen cybersecurity.
Text of HR 4897 — the Information Technology Modernization Act — can be found here and a section-by-section summary can be found here. U.S. CIO Tony Scott's announcement can be found here.
Hoyer spoke on the House floor recently about the bill he introduced. Click here for a link to the video.
Hoyer said the legislation he will be introducing is a major step toward transforming the way "our government invests in upgrading its infrastructure to serve the American people more effectively and to keep their private information safe."
"Over the past several years, I've made it a priority to make sure that Congress and the administration have access to the latest, most innovative technology in order to make our government more transparent, more efficient in providing essential services, and more responsive to the people we serve," Rep. Hoyer said. "This bill will rapidly upgrade our federal IT systems that are most in need of upgrading, either from being cybersecurity risks, inefficient, or costly to maintain. It will implement the upgrades using the latest best practices from our innovation economy in Silicon Valley and all across our country. The new upgrades will enable agencies to create new user-friendly apps and services, and will allow agencies to share data to root out fraud and abuse. The ITMF model has a proven track record in the private sector of reducing long-term costs, and I hope Democrats and Republicans can work together to advance this legislation in the weeks ahead."
Hoyer said the ITMF is a novel proposal for the government, though it is one that has an already established track record of success in the private sector when it comes to modernizing services, increasing cybersecurity, and bringing costs down over the long-term. The bill authorizes a one-time investment of $3.1 billion into a revolving fund to be overseen by an independent review board, which will examine proposals submitted by agencies and select the highest-impact, highest-priority upgrade projects to receive funding. The fund will then upgrade selected systems in a focused, rapid manner.
The ITMF will be self-sustaining. Once an agency has completed its technology upgrade, it will repay its funding amount back to the ITMF over time using savings achieved from making its technology system more efficient.  As a result, the $3.1 billion in initial seed funding is expected to address at least $12 billion in projects over the first 10 years and will continue beyond that point into the future in a self-sustaining way.  Furthermore, experts at GSA, including the 18F group that is comprised of technologists who use the latest best practices of Silicon Valley,  will ensure that all projects in the ITMF make use of those best practices, including shared services, cloud hosting, and agile development.
HR 4897 is co-sponsored by ranking member Elijah Cummings, ranking member Frank Pallone, Rep. Jose Serrano, Rep. Gerry Connolly, Rep. Tammy Duckworth, Rep. Robin Kelly, and Rep. Ted Lieu.
For information about House Democratic Whip Steny H. Hoyer, visit his Leader page.