Hoyer Returns From Listening Tour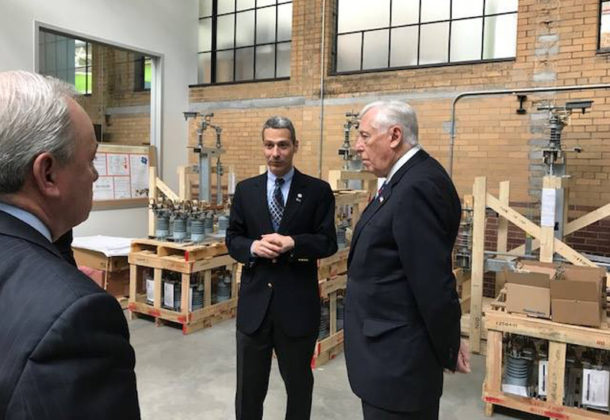 House Democrats, led by House Democratic Whip Steny H. Hoyer, went on their second Make It In America listening tour, traveling across the the country's Industrial Heartland to hear directly from citizens about their economic challenges.
Whip Hoyer (D-Md., 5th) was hosted at events in the districts of Rep. Mike Doyle (PA-14) in Pittsburgh, Rep. Marcy Kaptur (OH-09) in Toledo, and Rep. André Carson (IN-07) in Indianapolis. Mr. Hoyer was joined by Rep. Nanette Barragán (CA-44) for the discussions in Toledo and Indianapolis.
In Pittsburgh, Rep. Doyle offered a conversation at the Energy Innovation Center to talk to local business owners about encouraging entrepreneurship. Rep. Kaptur held a discussion in Toledo with labor, public school officials, community college leaders, students, and employers at Custom Training Solutions to talk about education and new ways to eliminate the skills gap. While Whip Hoyer was in Indianapolis, Rep. Carson hosted a talk with leaders in the community leaders about infrastructure opportunities and challenges. During the next few months, Whip Hoyer will join other Democratic Members on more Make It In America Listening Tour sites across the country.
During every event, participants brought up important issues that Mr. Hoyer and House Democrats can use to expand and improve the Make It In America plan. While in Pittsburgh, entrepreneurs discussed the challenges of finding skilled workers to hire and barriers to growing their businesses when they try to sell products overseas, plus the benefits of promoting entrepreneurship to high school students. During the Toledo event, participants talked about creating a focus on training for skills that will be needed in the future, and that continuing skills training must able to keep pace with competition and innovation. The people who joined the discussion on infrastructure in Indianapolis brought up concerns over the level of funding that local and state governments will be expected to provide under the president's infrastructure proposal. The participants also said infrastructure is positive for business, and talked about the challenges of aging water and sewer lines, the decline in revenue brought in by the gas tax, and that the reality of climate change should encourage the country to plan for future disasters rather than always reacting to the last one.
"Bringing the Make It In America Listening Tour to Pittsburgh, Toledo, and Indianapolis, we heard from Americans in the Industrial Heartland about the economic challenges they're facing and how Congress can help them seize new opportunities," Whip Hoyer said in a statement.
In the next few months, House Democrats will keep listening to the American people and drawing on what they hear to create an economic plan that promotes better circumstances for workers and businesses in the US.
"I've been involved in the Make It In America initiative since it began," Congressman Doyle said. "In fact, I've been working to preserve and grow US manufacturing throughout my service in Congress. Today, Pittsburgh has a much more diversified economy than it did 30 years ago, but manufacturing still plays an important role in driving the local economy." Congressman Doyle said the state also works to grow its innovation economy, which drives entrepreneurship and helps to develop new technologies and new ideas in Pittsburgh. "With so many exciting developments taking place here, I knew the Make It In America listening tour should stop in Pittsburgh, and I was pleased to help bring local thought leaders together to share their insights and experiences with Whip Hoyer."
Congresswoman Kaptur said the Make It In America motto is an ethos in northern Ohio, where businesses make cars, solar technology, glass, steel, and so much more. "In Ohio, we make and we grow things. With the help of local educators, workers, and business leaders our visit with Whip Hoyer and Congresswoman Barragan helped to underscore how we are preparing for a future rich in American made goods," Congresswoman Kaptur said. "We can help by keeping up our caucus' efforts to ensure we deliver real results for the people in Ohio and across our nation who need help to get a leg up."
Congressman Carson said he was honored to host Whip Hoyer in Indianapolis. "If we hope to keep Indiana the Crossroads of America, communities are going to need our help," he said. He then expressed his commitment to continue making federal investments in infrastructure while putting the thoughts and concerns of hardworking Hoosiers first.
House Democrats first launched the Make It In America plan in 2010 and it has been updated each Congress to reflect new economic challenges and opportunities in the country. The 2015 series of hearings called "Make It In America: What's Next?" saw dozens of Congressmen and experts discuss the best ways to adapt the plan to reflect the changing economy. Those hearings identified three core areas in which Congress can make a difference: entrepreneurship, infrastructure, and closing the skills gap. In the coming months, Whip Hoyer will continue the Make It In America listening tour across the country so that Americans can see that House Democrats hear their concerns, learn from their experiences, and respond to the challenges they face.
To learn more about the Make It In America plan, click here.
Follow Congressman Hoyer on Facebook and Twitter.
For more information about House Democratic Whip Steny H. Hoyer, visit his Leader Page.