Hoyer Praises John Glenn's Many Achievements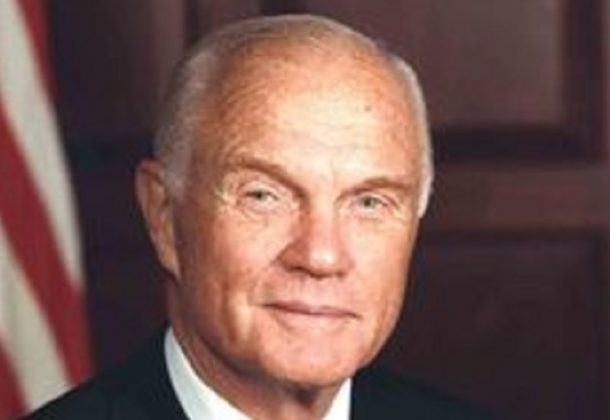 Sen. John Glenn, former naval aviator and astronaut and source of local pride, died Dec. 8 at a Columbus, Ohio, hospital. He was 95. House Democratic Whip Steny H. Hoyer (MD) released a statement on Sen. Glenn's passing.
"Today, we lost a great American," Congressman Hoyer said. "Having served his country with distinction in World War II and the Korean War, he volunteered to be one of our nation's first astronauts. Blazing a trail as the first American to orbit the Earth, John Glenn helped usher in the period of our history that President Kennedy called the New Frontier. Following his service with the military and NASA, he served our nation once more as a United States senator from Ohio, engaging in important work to prevent nuclear proliferation, improve government efficiency, and prevent discrimination against America's seniors."
Mr. Glenn was one of the "Mercury Seven" group of military test pilots selected in 1959 by NASA to become America's first astronauts and fly the Project Mercury spacecraft.
"The St. Mary's County community took pride in the fact that three of the original seven astronauts were graduates of the prestigious Naval Test Pilot School at Pax River," John Paradis, a former Navy pilot and flight test engineer at Pax River told The SlackWater Center at St. Mary's College of Maryland, as it was collecting oral histories from local residents in 2009. Mr. Paradis was referring to Mr. Glenn, Alan Shepard, and Wally Schirra. SlackWater's "Another Step Forward: Pax River Turns Its Gaze Skyward" can be read here.
The other members of the Mercury Seven were Scott Carpenter, Gus Grissom, Deke Slayton, and Gordon Cooper.
According to his biography, Mr. Glenn joined the US Navy in 1942 as an aviation cadet. He went to the University of Iowa for preflight training, then continued on to the Naval Air Station in Olathe, Kansas, for primary training. He transferred to the US Marine Corps while training in Corpus Christi, Texas. When he completed his training in 1943, he was assigned to Marine Squadron VMJ-353. He transferred to VMF-155 as an F4U Corsair fighter pilot, and flew 59 combat missions in the South Pacific. In 1945, he was assigned to NAS Patuxent River. Three years later he became a flight instructor at NAS Corpus Christi.
On Feb. 20, 1962, Capt. Glenn flew the Friendship 7 mission and became the first American to orbit the Earth and the fifth person in space. Glenn was the last surviving member of the Mercury Seven.
Mr. Glenn resigned from NASA in 1964 and retired from the Marine Corps in 1965. He won election to the US Senate in 1974. While still a senator and at age 77, he returned to space, becoming the oldest person to fly in space. He served as a senator for 24 years.
"I will always remember John Glenn as a wonderful colleague, courteous and thoughtful, and someone who represented the best of America in the way he treated not only his friends and allies in Congress but his opponents as well," Congressman Hoyer said. "My thoughts and prayers are with his wife, Annie, their children, their grandchildren, the extended Glenn family, and all those across Ohio and the United States who he inspired throughout his life. I thank them for sharing John Glenn with all of us who served with him in the Congress and with a nation grateful for his many achievements."
Follow Congressman Hoyer on Facebook and Twitter.
For more information about House Democratic Whip Steny H. Hoyer, visit his Leader Page.