Hoyer Opposes Employee Relocation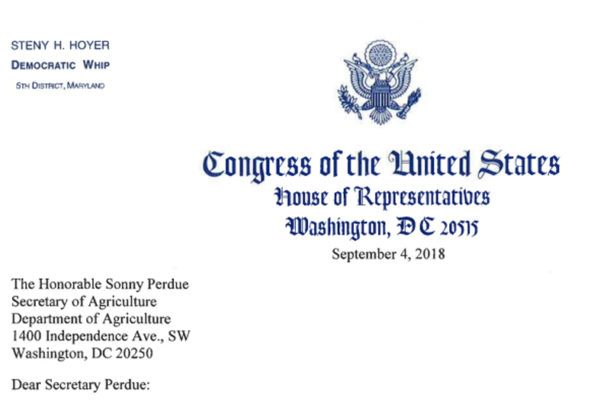 Congressman Steny H. Hoyer (Md.-5th) has sent a letter to Secretary of Agriculture Sonny Perdue to express his opposition to the Department of Agriculture's announcement that it plans to relocate the Economic Research Service and the National Institute of Food and Agriculture out of the Washington, DC, area. Close to 700 federal employees would be affected by the relocation.
"This proposal will be extremely disruptive to the employees of these agencies, many of whom reside in my Congressional district, while doing nothing to improve the work these agencies do for the American public," Congressman Hoyer wrote in his letter to Perdue. "In fact, the proposal raises serious concerns that the quality of work being done at ERS and NIFA may well be undermined."
Congressman Hoyer said in the letter that many of the agencies' employees have worked at the USDA for years, and sometimes decades. "They have put down roots here: they own property here, they have children enrolled in the local schools, and they have spouses with jobs in the area," he wrote. "Forcing them to leave Washington to continue doing the jobs they excel at does them, and their families, an extreme disservice. The likely result is that many will choose to leave the Department, contributing to a serious brain drain that will degrade the quality of work at these agencies."
Congressman Hoyer said in the letter that he is not aware of any evidence of an assertion that has been made, stating that it's difficult to recruit talented employees for the agencies because potential candidates do no want to live and work in Washington, DC. "That groundless assertion is belied by the talented work force currently at the two agencies, as well as the large numbers of applicants for vacancies," he said.
The entire letter can be found online.
Follow Congressman Hoyer on Facebook and Twitter.
For more information about House Democratic Whip Steny H. Hoyer, visit his Leader Page.