Hoyer to NASA: Protect Vital Missions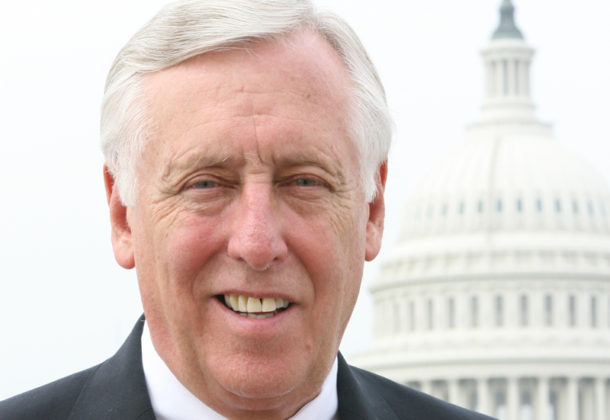 Congressman Steny H. Hoyer has joined US Sen. Chris Van Hollen and all of the Democratic members of the Maryland congressional delegation to urge the National Aeronautics and Space Administration, or NASA, to protect two missions that are vital to Maryland's leadership in earth and space science.
The lawmakers wrote a letter in late April to NASA Acting Administrator Robert Lightfoot warning him that cutting or eliminating the Restore-L satellite servicing mission and the Plankton, Aerosol, Cloud, and ocean Ecosystem (PACE) mission, as proposed in President Donald Trump's budget, will have harmful effects on Maryland jobs, particularly at the Goddard Spaceflight Center located in Greenbelt, and the country's ability to understand and monitor critical environmental issues such as climate change.
Besides Congressman Hoyer and Sen. Van Hollen, the letter was signed by Sen. Ben Cardin and Congressmen Elijah Cummings, Dutch Ruppersberger, John Sarbanes, John Delaney, Anthony Brown, and Jamie Raskin.
"Both missions support between 400 and 800 high-skill, high-paying jobs that would be adversely affected by these changes – scientists and engineers who drive innovation and discovery, and contribute to their communities and the entire state of Maryland," the lawmakers wrote in the letter.
The letter continues: "We believe restructuring and consolidation of the Restore-L mission will lead to irreversible capability reductions. Eliminating the PACE mission would jeopardize NASA's ability to monitor some of our most critical environmental issues, such as harmful algal bloom and atmospheric quality predictions, and respond appropriately. As budget talks proceed, we ask that you vigorously support and advocate on behalf of the Restore-L and PACE programs to keep NASA on the cutting edge of technology and exploration."
The full text of the April 27 letter can found on Congressman Hoyer's website.
Follow Congressman Hoyer on Facebook and Twitter.
For more information about House Democratic Whip Steny H. Hoyer, visit his Leader Page.