Hoyer Named Trailblazer in P.G.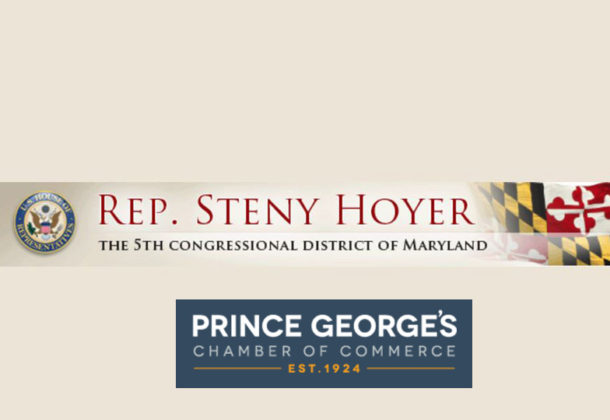 US Rep. Steny H. Hoyer has been named the "Trailblazer of the Year" by the Prince George's County Chamber of Commerce.
Congressman Hoyer (D-Md., 5th) received the honored on Oct. 5, 2018, at the chamber's Excellence in Business Awards Gala. He was given the award for his contributions to the state of Maryland, according a press release sent from his office.
"I was humbled to receive this distinguished award from the Prince George's County Chamber of Commerce," Congressman Hoyer said in the release. "I've been honored to work with the chamber for many years to bring development and economic opportunity to our community. Together we've worked to improve the lives of Marylanders and increase investments in our county. I look forward to continuing to work with the chamber for years to come, and I thank them for the work they do to make Prince George's County a great place to live and work."
The chamber's President and CEO David Harrington said the Prince George's Chamber of Commerce has 600 members, and that they are pleased to recognize Congressman Hoyer for being an outstanding leader in the county, the state, and across the country.
"Truly, Congressman Hoyer is a trailblazer!" Mr. Harrington said in the press release.
Congressman Hoyer is the congressional representative for the 5th District of Maryland, which includes Calvert, Charles, St. Mary's, and part of Prince George's County.
Hoyer Tours Thompson Creek Window Co.
Congressman Hoyer recently visited Thompson Creek Window Co. and toured its manufacturing facility in Upper Marlboro. During the visit, Congressman Hoyer discussed his recently updated Make It In America agenda, which focuses on three core areas: education, entrepreneurship, and infrastructure.
"I enjoyed visiting the Thompson Creek Window Company today and touring their manufacturing facility to learn more about the work they are doing, which creates good jobs and helps grow our economy," he said. "When I unveiled House Democrats' updated Make It In America agenda in July, I spoke about the need for Congress to work together with local businesses and workers to help them get ahead. We ought to ensure our workers have the skills they need to find employment in today's in-demand jobs, help small businesses innovate and compete in today's market, and invest in 21st-century infrastructure. I appreciate the work Thompson Creek is doing to facilitate manufacturing in our state."
"We are pleased to host Congressman Hoyer [Oct. 5] and appreciate his efforts to promote manufacturing in the United States," said Rick Wuest, president of Thompson Creek. "Thompson Creek is proud to be an example of how manufacturing can thrive in America, create jobs and expand opportunities for the people of Maryland."
Follow Congressman Hoyer on Facebook and Twitter.
For more information about House Democratic Whip Steny H. Hoyer, visit his Leader Page.