Hoyer Honored by Majority Leader Election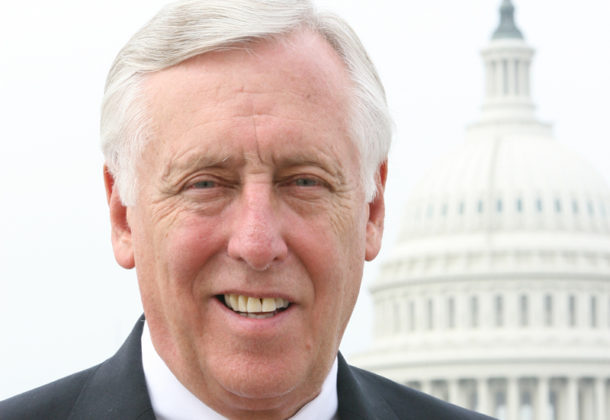 Rep. Steny H. Hoyer was elected by acclamation as majority leader of the House of Representatives this week.
After being elected, Congressman Hoyer (D-Md., 5th) released a statement saying that he was honored to have been chosen by his Democratic colleagues in the House.
Hoyer has served in the position before and "I look forward to serving the Democratic Caucus in the new Congress," he said in the statement, released by his office. "Our caucus is united behind the principles we share and our common determination to achieve what the American people sent us here to do. They entrusted Democrats to lead the next House because they want to see every hardworking American have the opportunity to get ahead. They want to see us return their government to the people and ensure that Congress is transparent, accountable, and responsive. They want to see health care and prescription drug prices go down, and they want to see wages go up. Now it is up to us to deliver results, and our Majority will be focused relentlessly on doing exactly that."
Hoyer said that, as majority leader, he will continue his effort to empower the next generation of leaders in American government. There is a fresh, energetic freshman class in Congress, and Hoyer said the entire House will benefit from the mix of new perspectives and experienced leaders.
"Over the next two years, Democrats will show the American people our vision for the future. We will demonstrate how our nation can move past an era of dysfunction and chart a new course forward," Rep. Hoyer said in the release.
Hoyer was nominated to be the majority leader by Congressman Elijah Cummings (Md., 7th) and seconded by Congresswoman Stephanie Murphy (Fla., 7th), Congressman Jamie Raskin (Md., 8th), Congresswoman-Elect Veronica Escobar (Texas, 16th), Congresswoman-Elect Deb Haaland (N.M., 1st), and Congressman-Elect Ben McAdams (Utah, 4th).
Follow Congressman Hoyer on Facebook and Twitter.
For more information about House Democratic Whip Steny H. Hoyer, visit his Leader Page.