Hoyer Announces 2018 Online All-Star Winners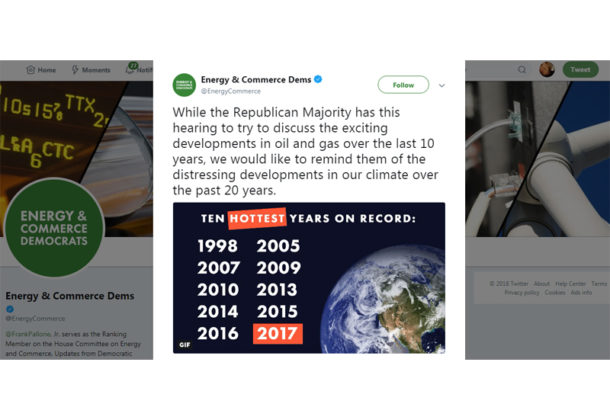 Democratic Whip Rep. Steny H. Hoyer has announced the winners of the creative category awards in the 2018 Member Online All-Star Competition. Winners were chosen by the public according to their total reactions on Whip Hoyer's Facebook page, linked below.
Energy and Commerce Committee Democrats won the best gif award; Rep. Jimmy Gomez of California was given the best graphic award; and Rep. Kathy Castor of Florida took home the best video award.
"Over the course of the three-week Member Online All-Star Competition, House Democrats shared innovative and engaging content with the American people," said Whip Hoyer (Md.-5th) in a press release. "Their creativity and hard work helped to expand our reach on social media and ensure we are connecting with hundreds of thousands of new followers. I thank Members and their staffs for competing in this year's competition and applaud their outstanding work."
Best Gif Award: Energy and Commerce Committee Democrats called attention to climate change with a gif showing the 10 hottest years on record, which you can find here.
Best Graphic Award: Rep. Jimmy Gomez (Calif.-34)'s graphic called out the administration for the family separation crisis, which you can find here.
Best Video Award: Rep. Kathy Castor (FL-14) discussed health care and take away protections from people with pre-existing conditions in a video that features a constituent. The video can be found here.
Whip Hoyer has already announced that Rep. Ted Lieu (Calif.-33) was the 2018 Overall MVP of the All-Star competition; Rep. Pramila Jayapal (Wash.-07) was the Freshman MVP; and Rep. Joe Kennedy (Mass.-04) was the Election Blackout MVP.
The main purpose of the contest, Congressman Hoyer said, is to keep members of Congress in close contact with their constituents, and social media allows that to happen.
"Social media is a fast, and powerful way to facilitate that communication and increase transparency in Congress," Mr. Hoyer said when he announced the competition.
Follow Congressman Hoyer on Facebook and Twitter.
For more information about House Democratic Whip Steny H. Hoyer, visit his Leader member page.