Hospital Corpsman 3rd Class Gross Awarded Purple Heart
Hospital Corpsman 3rd Class Vanzorro Gross Jr. was awarded the Purple Heart Monday by The Naval Health Clinic Patuxent River.
Rear Adm. Alton Stocks, Commander of Walter Reed
National Military Medical Center presented the award.
Mr. Gross, 26, received the Purple Heart for wounds received in action during the September 2012 Camp Bastion Raid while deployed in Afghanistan with
the Marines. During the firefight eight service personnel were injured and two were killed.
The Hospital Corpsman was injured during what should have been a routine shift at the clinic. An unknown number of enemy fighters infiltrated the base. Mr. Gross went to investigate an explosion and was immediately engaged in firefight.
During the fighting Mr. Gross took cover behind a vehicle used to trolley the aircraft and engaged enemy combat. Armed with a 9mm pistol, Mr. Gross was fired back upon with an RPG and received blast injuries and shrapnel damage.
Mr. Gross said his first thought was to help protect those he serves with. "You're just a big fami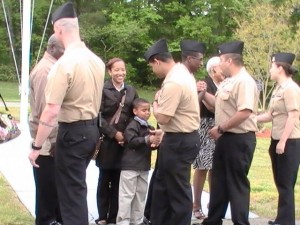 ly, and family watches out for each other," he said.
Hospital Corpsman Gross was 30 days into a 6 month deployment at the time of the attack, and was sent home with damage to the first and second metatarsal bones in his foot. He says he had an approximately 3″ hole in his foot from the shrapnel damage and has undergone four orthopedic surgeries so far to reconstruct his foot.
Despite these injuries, when visited in Walter Reid National Military Medical Center by a commanding officer, Mr. Gross' first question was "When can I go back?"
For the young man who was training with his brother to participate in a Spartan Marathon in California, the recovery process has been a trying time, but he is making great progress and hopes to be returned to full duty soon. In the meantime, the young Corpsman has been dealing with his experiences by helping others.
"You pass on what you know to others," said Mr. Gross "I have confided in others, and they can confide in me."
[youtube=https://www.youtube.com/watch?v=8xh8zFJkBPk]