F-18's IR Targeting Matures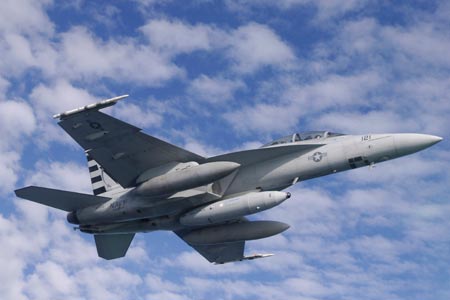 By PEO(T) Public Affairs
The Navy's infrared search and track (IRST) system reached Milestone B June 17.
The acquisition review board, led by Assistant Secretary of the Navy (Research, Development, and Acquisition) Vice Adm. W. Mark Skinner, determined the IRST system has satisfied all requirements for Milestone B and will enter the engineering and manufacturing development phase of the program.
The IRST capability, which will be employed on the F/A-18E/F Super Hornet, is a long-wave infrared sensor system that searches for and detects heat sources within its large field of regard. Unlike radar systems, IRST is passive and does not give off radiation, making it harder to detect.
"The Infra-Red Search and Track system will transform the way the Super Hornet conducts air-to-air operations. It is truly a game changing capability," said Capt. Mark Darrah, F/A-18 and EA-18G program manager (PMA-265). "This new capability will give the warfighter an advantage over traditional fire control systems for air-to-air missions in a high-threat environment."
The IRST allows long-range detection and tracking of enemy under normal and electronic attack environments. It increases survivability and lethality in both offensive and defensive counter-air roles.
"I am proud of how we have worked with our industry partners, Boeing and Lockheed Martin, to bring this much-needed capability of detecting enemy aircraft, one step closer to the fleet," said Brian Hall, deputy program manager of the F/A-18 and EA-18G program office.
Along with the Distributed Targeting System, which reached Milestone C earlier this spring, the IRST capability is part of the Navy's F/A-18E/F flight plan, designed to ensure that the Block II Super Hornet will stay ahead of known and emerging threats through 2025 and beyond.
Now moving on to the engineering and manufacturing development phase, the IRST system will be fully integrated onto the F/A-18E/F platform and prepared for manufacturing. The program will then request a low-rate initial production decision in Milestone C, which is slated for the middle of fiscal year 2014.
The Boeing Company in St. Louis, Mo., is manufacturing the IRST system.