A Better Way to Hire?


Live webcam interviews of electronically culled job applicants could be the answer to better hiring.
That's what native son, entrepreneur Suki Shah, and $1.75 million worth of investors believed with their launch this year of GetHired.com.
As Mr. Shah tells it, he wasn't long in his first business, Statacor Biosciences of Rockville Maryland,when he discovered that the "people process" is the most difficult element of scaling and that the hiring process does not get easier as a company grows.
GetHired.com was built to help. It serves as both a job board and the portal to allow "employers to find and pre-screen candidates using audio and video, conduct interviews in real-time and manage the entire on-boarding process."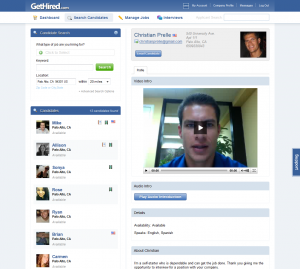 Mr. Shah and his co-founder Naresh Patel are expecting employers will remain with their low-cost and broader reaching services. The plan anticipates retaining users who find "GetHired.com produces better-quality candidates, in less time, at a lower cost," according to a company.
GetHired accommodates and helps employers manage their other online recruitment  efforts. The posting fee for employers is $25. For job seekers, the service is free.
Mr. Shah grew up in St. Mary's County and graduated from St. Mary's Ryken. He  launched Statacor Biosciences, a disease management company, in 2005 after graduating from Georgetown University's business school. It was early on in his first business that he knew he wanted a streamlined process of categorizing applicants. Statacor had developed a successful, on-line, patient tracking system, elements of which he thought might be transferable.
Mr. Shah left the running of Statacor to his partners and took his streamlining idea to the Silicon Valley, where others agreed. The Silicon Valley Business Journal reported earlier this year the seed round of funding  included investors Jeffrey Leonard,  CEO of the Maryland-based private equity firm Global Environment Fund, Legalzoom CEO John Suh and Judith McHale, former CEO of Discovery Communications.
Naresh Patel is the co-founder and CTO at GetHired.com, bringing 17 years of experience in information and systems technology to the platform. He has worked with Wal-Mart, Informix Software, Marriott International and Statacor Biosciences. He serves as the CTO of B.A.P.S. Hindu Temple and leads the technological needs of more than 25 temples on the East Coast.
The founders give a number of reasons for their confidence in GetHired.com's ability to take the lead in a cluttered field of human resource technology services. The low-cost GetHired site allows employers to incorporate and track information on other job board sites, making a try virtually risk free and helpful in managing their existing recruitment efforts. Cost savings, time savings, a more manageable site and the additional services will convince employers to stay, they believe.
"Posting open positions on job boards like Monster.com or Craigslist," according to the company, "is time-consuming and expensive – and may elicit hundreds of email inquiries per post. Employers must then spend time sifting through these resumes to find the best candidates, sometimes with no insight into who is really best for an open position."
GetHired's additional culling services include guides and the online scheduling of  employers and job seekers for audio or video interviews. It is here that GetHired.com expects to revolutionize the hiring and scaling process. The site can rapidly hone from a large field of candidates and deliver results in multiple formats from written, audio or video including on-line interviews scheduled through GetHired at the employer's and candidate's mutual convenience.
The service may ultimately be supplemented by advertising.
Meanwhile, Shah is convinced of the site's success, saying, "GetHired.com is the future of job search. We are reinventing the way that employers and job seekers connect in today's digital world."
[youtube=http://www.youtube.com/watch?v=_3tqC8WYK-g]