Hagel Specifies New Offset Strategy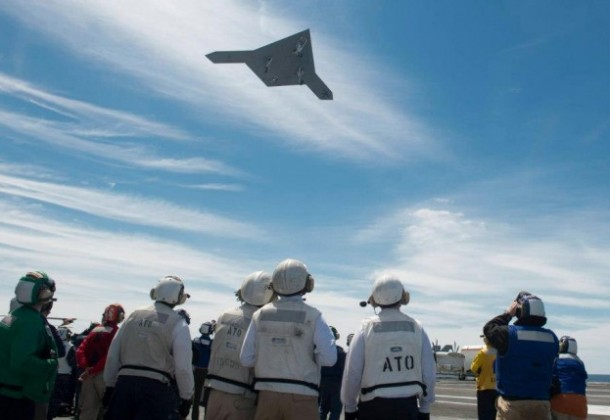 Morning Coffee is a robust blend of links to news around the internet concerning the Naval Air Station Patuxent River economic community. The opinions expressed here do not necessarily reflect those of the Leader's owners or staff.

DefSec Chuck Hagel launched the Pentagon's quest for a new "Offset Strategy," reports Breaking Defense. Offset is a military-industrial term for key technological developments that give the US a military edge. Mr. Hagel identified "robotics, autonomous systems, miniaturization, big data, and advanced manufacturing, including 3-D printing," as priority technology areas for the DoD's shrinking budget.
China initiated a discussion on US military spy flights during talks between the two nations last week but was informed that US missions in international airspace and waters would continue, according to asiaone. The conversation highlighted China's sensitivity to surveillance by US Navy P-8 Poseidon spy planes and other aircraft.
The F-35C Lightning II conducted its first carrier-based night flight operations, reports the Imperial Valley News. Navy test pilots have been flying the F-35 on and off the USS Nimitz over the last 10 days and say that the stealthy fighter's computers simplify what is usually considered the toughest job in naval aviation – landing on a flattop, according to U-T San Diego.
A series of late morning sonic booms that rattled Bethany Beach, DE residents on Friday were explained by a NAS: Pax River spokesperson as resulting from flight testing operations being conducted over the Atlantic Ocean, reports delaware.newszap.
Recommendations for changes in tobacco policies on military installations have been delayed to mid-December, according to Military Times. Earlier this year the Navy was on track to eliminate tobacco sales on Navy and Marine Corps bases by mid-April but that was put on hold after defense officials ordered a comprehensive review of tobacco policies. Legislation is now pending that would block any DoD effort to remove tobacco products from military stores.
A press release by House Democratic Whip Steny H. Hoyer lauds the agreement to combat climate change announced by President Obama and President Xi of China. Mr. Hoyer said, "climate change, which – if left unchecked – could have dangerous repercussions for our economy, our farmers, and our people's health."
The US is expanding plans to patrol the Mexican and Canadian borders with MQ-1 Predator drones, reports the International Business Times. UAVs are already monitoring almost half of the Mexican border and, by the end of 2015, will begin to patrol the Canadian border.
The Navy is attempting to relieve pressure in overmanned specialties across the force by updating the "early out" offerings, reports Navy Times. The revision brings the number of quotas to 521, spread out over 11 rating, paygrade and year group combinations. Thirty-four quotas are offered in the aircrewman avionics ratings which is impacted by the move from the P-3 Orion to the P-8 Poseidon aircraft, which has a smaller crew.
The DoD will reduce its use of live animals in medical training starting Jan. 1, according to Military Times. Instead, military health professionals will use simulators or other models in key areas of training and education such as advance trauma life support, neonatal resuscitation, and obstetrics and gynecology.
AMEWAS, California, Maryland, is being awarded a $22,500,000 modification to a previously awarded indefinite-delivery/indefinite-quantity, cost plus fixed fee, firm-fixed-price, performance based contract (N00421-04-D-4011) to exercise an option for continuing engineering, manufacturing and technical support services in support of the Integrated Battlespace Simulation and Test Department.  Work will be performed in Patuxent River, Maryland, and is expected to be completed in May 2015.  Fiscal 2015 research, development, test and evaluation (Navy) funds in the amount of $6,254,325 will be obligated at time of award, none of which expire at the end of the current fiscal year.  The Naval Air Warfare Center Aircraft Division, Patuxent River, Maryland, is the contracting activity.