Guard Readies for Convoy to DC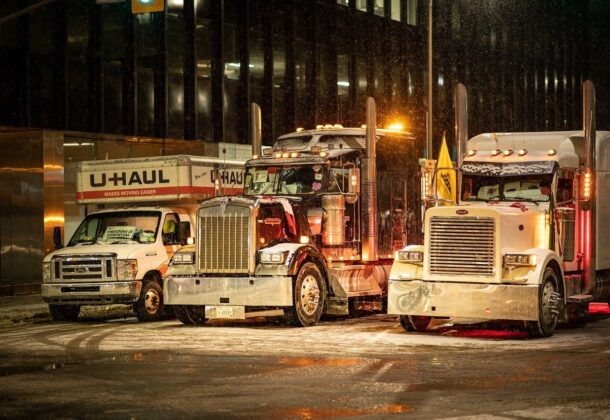 Morning Coffee is a robust blend of links to news around the internet concerning the Naval Air Station Patuxent River

economic community. The opinions expressed here do not reflect opinions of the Leader's owners or staff.
With an organizer of a trucker vaccine mandate protest threatening to shut down traffic around the capital region, the DC National Guard is alerting troops to be ready to activate in response, reports Military Times.
Russian President Vladimir Putin asked his country's parliament on Tuesday for permission to use military force outside the country — a move that could presage a broader attack on Ukraine, reports AP News. After Putin recognized two rebel-held areas in eastern Ukraine as independent states, several European leaders said Russian troops had moved into those areas. It was unclear how large the movements were. Ukraine and its Western allies have long said Russian troops are fighting in the region. Moscow denies those allegations.
The price of oil surges on supply fears as Ukraine-Russia tensions rise, reports BBC. The price of Brent crude, an international benchmark, reached a seven-year high of $99.38 a barrel on Tuesday.
Germany scrapped plans for a pivotal Nord Stream II pipeline bringing Russian gas to Europe after Putin sent troops to Ukraine, reports Business Insider. It was the first significant economic consequence for Putin's Russia after its escalation of the conflict in Ukraine. The US, EU, and UK also promised economic sanctions would be announced later. The pipeline connects Russia gas fields to Europe and was fiercely opposed by the US.
SpaceX successfully launched 46 Starlink satellites from Florida, reports Science News, the company's first Starlink mission since the loss of about 40 of the satellites on February 4 during a solar storm that thickened the air and caused the satellites to burn up as they crashed back through the atmosphere. SpaceX recovered the booster successfully after Monday's launch on the robotic barge, A Shortfall of Gravitas. This booster has previously launched astronauts on the Demo-2 mission to the International Space Station in May 2020, five earlier Starlink missions, a cargo mission to the space station, and three other satellite missions.
The Beijing Olympic ratings were the worst of any Winter Games, reports The New York Times. NBC Universal's coverage had 11.4 million viewers per night on average, compared with 19.8 million for the Pyeongchang Games in 2018. Pandemic restrictions left stands mostly empty. NBC announcers such as Johnny Weir and Tara Lipinski had to deliver their dispatches from a compound in Connecticut.
Britain is about to roll out a fourth COVID-19 vaccine shot for people 75 and older, reports UPI. The shot will be available as an additional spring booster dose for people who are "the most vulnerable," including people aged 75 and older, elder care home residents, and people 12 and older who are immuno-compromised. Queen Elizabeth has tested positive for COVID-19, Buckingham Palace announced, and is experiencing mild cold-like symptoms. She canceled virtual events this week, reports NBC News.
Australian leaders are calling for an investigation into Chinese laser harassment of surveillance aircraft, reports USNI. China denies that a People's Liberation Army Navy warship used a laser last week to harass an Australian military aircraft. Senior COL Tan Kifei, spokesperson for China's Ministry of National Defense, told reporters on Monday that "on February 17, the Australian P-8 anti-submarine patrol aircraft arrived in the airspace surrounding our ship formation, and the nearest distance to our ship was only 4 kilometers. During the entire encounter with the Australian military aircraft, the Chinese warships always maintained safe, standardized and professional operations, in line with relevant international law and practice."
US Navy and Marine Corps drills with Japanese forces test a new island-hopping concept, reports USNI. The forces teamed up in the Philippine and East China seas to test Noble Fusion, an island-hopping concept with allies within the Marines' Force Design 2030 plan. The drills are a prelude to a larger scale exercise between US and Japanese forces scheduled to take place in Japan later this year.
The last Afghan refugees housed in the last US military base to house refugees have left, reports The Associated Press. Housing facilities for refugees will remain at Joint Base McGuire-Dix-Lakehurst in central New Jersey, until a permanent refugee facility is designated. The US plans to admit thousands more Afghan refugees over the next year but in smaller groups to be housed in a facility at an undetermined location.
Contracts:
Compass Systems Inc., Lexington Park, Maryland, is awarded a $9,999,704 cost-plus-fixed-fee order (N6833522F0145) against a previously issued basic ordering agreement (N6833522G0012). This order provides research and development in support of Naval Air Warfare Center Aircraft Prototype System Division and continuation of the Small Business Innovation Research Phase III Topic N201-015 titled, "Autonomous and Intelligent Aircraft Maintenance Technologies." This order also includes further development, testing, and evaluation of command, control, communications, computers, combat systems, intelligence, surveillance, and reconnaissance artificial intelligence/machine learning/augmented reality systems. Work will be performed in Lexington Park, Maryland, and is expected to be completed in February 2023. Fiscal 2022 working capital (Navy) funds in the amount of $86,818 will be obligated at the time of award, none of which will expire at the end of the current fiscal year. The Naval Air Warfare Center Aircraft Division, Lakehurst, New Jersey, is the contracting activity.
Leidos Inc., Reston, Virginia, is awarded an $8,097,773 cost-plus-incentive-fee and cost-only modification to previously awarded contract (N00024-21-C-5202) to exercise options for ship installation of the Navy's AN/SQQ-89A(V)15 Surface Ship Undersea Warfare Systems. Work will be performed in Chesapeake, Virginia (26%); Everett, Washington (23%); Norfolk, Virginia (19%); Yokosuka, Japan (14%); San Diego, California (13%); Bath, Maine (1%); Manassas, Virginia (1%); Mayport, Florida (1%); Pascagoula, Mississippi (1%); and Pearl Harbor, Hawaii (1%), and is expected to be completed by September 2024. Fiscal 2022 other procurement (Navy) funds in the amount of $5,050,840 (83%); and fiscal 2021 other procurement (Navy) funds in the amount of $1,007,802 (17%) will be obligated at the time of award and will not expire at the end of the current fiscal year. The Naval Sea Systems Command, Washington, DC, is the contracting activity.
Dominion Virginia Power, Fort Belvoir, Virginia, has been awarded a maximum $11,152,428 modification (P00278), incorporating the fifth prospective price redetermination to an existing 50-year contract (SP0600-06-C-8252) with no option periods for electric utility services. This is a fixed-price with prospective price redetermination contract. Location of performance is Virginia, with an Aug. 1, 2057, performance completion date. Using military service is Army. Type of appropriation is fiscal 2021 through 2057 operations and maintenance funds. The contracting activity is the Defense Logistics Agency Energy, Fort Belvoir, Virginia.