Greenwell New PTLT Conservation Manager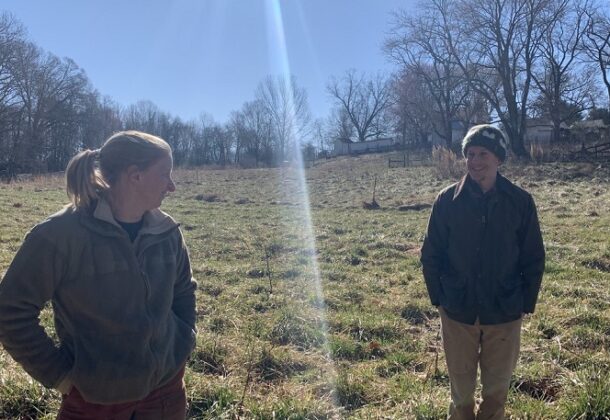 Abby Greenwell, Patuxent Tidewater Land Trust conservation manager, already out in the field with Jackson Webb on his farm, a recent PTLT easement. (PTLT photo)
Abby Greenwell is the Patuxent Tidewater Land Trust's new conservation manager.
"We are thrilled to welcome Abby Greenwell, the new easement conservation manager of Patuxent Tidewater Land Trust. Abby is a highly recommended Navy veteran with 12 years of experience. She is passionate about preserving the rural and ecologically diverse Southern Maryland, where she has lived most of her life," PTLT writes in its latest newsletter.
Ms. Greenwell, her husband and three children live in Leonardtown.
"She has varied skills that make her perfectly suited to this position: Computer expertise, professional organizational skills, farm and local community knowledge, partnership building, and project management," according to PTLT. "Abby is a delight to work with. Southern Maryland land preservation has gained a strong ally."
In partnership with Historic St. Mary's City, PTLT volunteers will be removing the English ivy vines from the trees at the city.
PTLT only works the colder winter months of the year before the leaves make it harder to penetrate some areas. Volunteers are almost finished cleaning up a big section by the waterfront. These vines have so engulfed so many of the trees that they are being killed.
Anyone who wants to help save these trees, join PTLT Saturday, March 11, 2023, from 9am to noon. Park at Farthings Ordinary parking lot across from the college. Meet toward the waterfront by Farthings Ordinary gift shop. Bring saws, clippers, loppers (eye protection recommended).
Text or call 301-247-3285 for more information.