Grant Will Benefit Children's Discovery Garden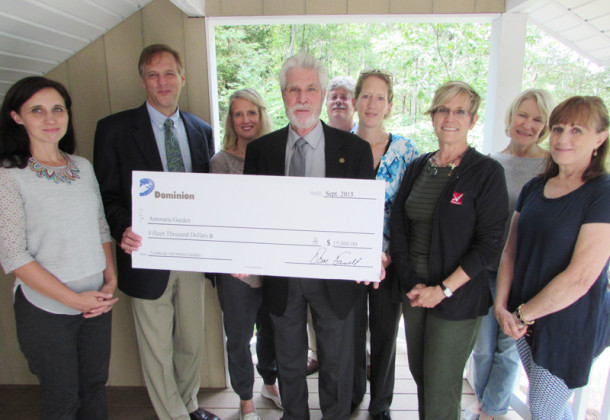 Posted for Annmarie Sculpture Garden and Art Center
The Dominion Foundation has given a $15,000 grant to Annmarie Sculpture Garden & Art Center in Solomons, Maryland. The money will be used to support the Children's Discovery Garden and Nature Trail.
The Children's Garden will be natural play space and outdoor classroom where young guests will explore the ecology of the Chesapeake Bay with a particular focus on strategies to protect the Critical Area. The grant was made by the Dominion Foundation, the philanthropic arm of Dominion Resources, parent company of Dominion Cove Point LNG.
A recent project in Calvert County is turning the Dominion Cove Point LNG import facility into an export facility. Dominion has been working in the community on environmental stewardship efforts, including a conservation management plan on the site. Nearly 90 percent of Cove Point's 1,000 acres are preserved. Freshwater marshlands in the area are protected and the plant uses local, native plants in landscaping to make irrigation unnecessary. The Children's Garden will be another element in Dominion Cove Point's environmental stewardship efforts.
See more about the efforts on Dominion Cove Point's website.
An affiliate of the Smithsonian Institution, Annmarie Garden is located in scenic Solomons, Maryland, on the Chesapeake Bay. The sculpture garden features a walking path that meanders through the forest past permanent and loaned sculpture, including more than 35 works of art on loan from the Smithsonian Institution and the National Gallery of Art. Annmarie Garden also presents a variety of award-winning special events, gallery shows, and engaging public art programs. Annmarie Garden's Studio School offers creative classes for all ages and abilities taught by a talented faculty. Annmarie Garden is conveniently located just off Route 2-4, on Dowell Road in Solomons, Maryland; open 9am-5pm daily; the Murray Arts Building and Gift Shop are open 10am-5pm daily. To learn more, visit www.annmariegarden.org.