Don't Miss This Year's Gov Cup! Aug 2-3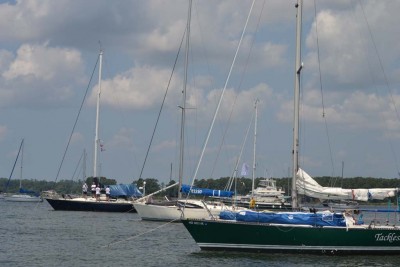 Posted by
St. Mary's College of Maryland
Bay Leader  
St. Mary's College of Maryland's Governor's Cup Yacht Race is this weekend!
The overnight race begins Aug. 2 in Annapolis, goes down the Chesapeake Bay,  turns into the Potomac River and finishes on St. Mary's River at the college.
This year will be the 40th running of the oldest and longest overnight race on the Chesapeake Bay. The Potomac leg of the race from Dahlgren, Va., was added in 2012 as a separate race and is being run again this year.
Live GPS tracking will be available on the Gov Cup website through the Kattack mobile app for iPhone or Android.
On Saturday, sailors and spectators can enjoy food selections provided by local vendors and the Trinity Episcopal Church where breakfast begins at 5:30 a.m., as well as family-fun activities including live entertainment by Byzantine Top 40.
The after-race festivities begin at noon and run until 10 p.m. at the college's James P. Muldoon River Center.
Back by popular demand is the Racers' Dinner, which will be held in the campus Great Room starting at 6 p.m. Pre-registration is required for the dinner and can also be made at the Gov Cup website.
Qualified sailors can still register online at the official Gov Cup website.
This event is open to the press. To cover Gov Cup, contact Arminta Stanfield at [email protected].
For information, email [email protected] or call the Gov Cup phone line at 240-895-3039.