Golf Classic Funds Scholarships, Programs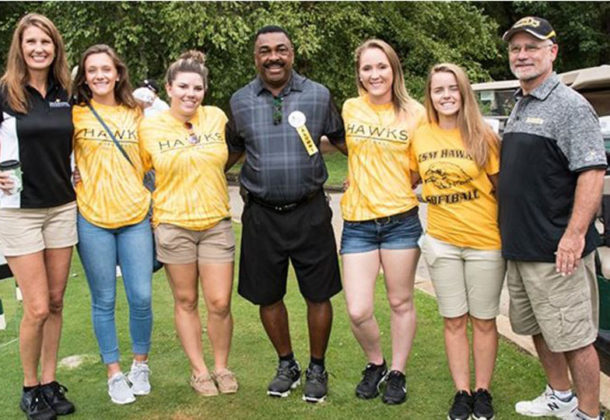 It's time for the region's golfers to get ready for the College of Southern Maryland Foundation's 26th Annual Golf Classic. The tournament is set for Aug. 10, 2017, at Swan Point Yacht and Country Club in Issue. During its first 25 years, the event has raised more than $770,000 for scholarships and CSM programs, plus it features prizes, raffles and three meals.
"The Golf Classic is one of those signature traditions in Southern Maryland that continues through the years because of the generosity of so many partners," said CSM Foundation Director Gary Simpson, chair of the golf committee. "These partners are individuals, organizations and businesses — people who realize that the funds generated through this tournament are going to support a great cause, our students and their education."
Never golfed? No problem!
Get coached on the game while enjoying a four-course food and wine tasting, while still supporting the college through the Sip and Swing for an Impact. Sip and Swing is sponsored this year by the Southern Maryland Women's League (SMWL) and presented by the CSM Alumni and Friends Connection. The event run simultaneously with the 26th Annual Golf Classic. Sip and Swing starts later than the tournament and includes several interactive clinics on putting, chipping and full-swing techniques and then ends with an awards ceremony.
"By sponsoring and attending the Sip and Swing for an Impact, we have the opportunity to socialize with others, be a part of helping to provide golfing technique lessons, while showing our support for the great work that CSM consistently does for its students," said Brenda Lowe, a CSM Foundation director and SMWL past president, director and executive officer. "I have been to several of the Sip and Swing events, and I can tell you it is a ton of fun, good food and lots of laughs."
Alumni Row is also back this year. Alumni can sponsor a sign to be showcased along "Alumni Row." These signs, which can be purchased for $50, can feature a donor's name, graduation year or a business name.
The Golf Classic is one of CSM's favorite events and has been supported by Marrick Homes as the grand tournament sponsor for more than 15 years, according to CSM Development Director Chelsea Brown.
Other generous sponsors include executive sponsor SONIC Drive-In of Southern Maryland. Corporate sponsors are Rotary Club of Charles County, Educational Systems Federal Credit Union and Washington Gas – A WGL Company. Mulligan sponsors are Community Bank of the Chesapeake, McDonald & Eudy Printers Inc. and Specialized Patterns in Training. Community partner sponsors include Chick-fil-A of La Plata, Coldwell Banker Jay Lilly Real Estate, Dale and Karen Smith Hupp, DRN Environmental Solutions, ECHO Realty, Nancy Hempstead, Occasions Boutique, The Rex, Simpson's Olde Towne Insurance, SMECO and SoMDNews.com. Food and beverage sponsored are Bozick Distributors Inc., Chick-fil-A of La Plata and SONIC Drive-In of Southern Maryland. Contest sponsors are Community Bank of the Chesapeake; Raley, Watts and O'Neill Insurance and Financial Services, Buddy Sprague in honor of the Jack Love Sprague Scholarship and University of Maryland Charles Regional Medical Center.
The deadline to sponsor or register for either the tournament or the Sip and Swing for Impact is July 31. Foursome slots are going quickly. To register for the 26th Golf Classic or the Sip and Swing for Impact or to purchase a tee sign for Alumni Row, contact Erika Abell at 301-934-7647 or Erika.abell@csmd.edu; or visit the CSM Foundation website to register online.
For more about the College of Southern Maryland, visit its Leader member page.