Go Beyond With CSM Travel Study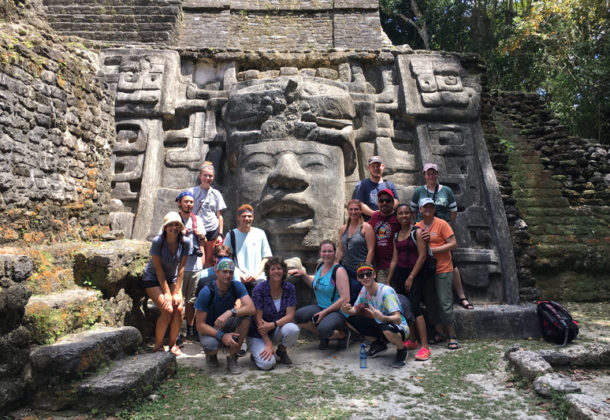 CSM students on a previous travel study trip to Belize take a break during one of their excursions.
Anyone can ready about ancient cities. Truly learning about the site, however, is done best by seeing it, being there, touching the ground, smelling the air. College of Southern Maryland believes that immersive experiences are powerful and foster deeper learning understanding, and encourages students to take advantage of travel study next year.
"If attending college does what it is supposed to, it is a transformative agent in students' lives," said CSM professor Paul Billeter. "Nothing I do as a professor transforms my students' lives as much as travel study."
Upcoming opportunities for CSM students include trips to Belize, Ireland, Florida, and Scotland. There is limited registration and the 2017 trips to Scotland and Florida are full. However, there is still room to sign up for the Belize and Ireland trips, though a Jan. 20 deadline is approaching for those students who would like to sign up for the Belize trip.
"Oh, my gosh! It was the best time of my life," said CSM student Melana Krivitsky of Newburg, who went on the CSM Belize trip in both 2014 and 2015. "It definitely broadened my experience with other cultures. It made me more willing and enthusiastic to learn more about the marine environment."
March 2017 marks the 14th year of CSM's Belize travel program. Students who wish to go can enroll in two courses tailored for this travel program, which include both online preparation and in-country exposure to the marine environment and the study of the cultures of Belize. The first three days of the trip, which is scheduled for March 17-26, led by CSM professor Carolin McManus, are dedicated to exploring archaeological evidence of ancient Mayan sites near the small town of San Ignacio. Ms. McManus said students can climb millennial-old temples, sample freshly ground chocolate and traverse the underworld via Actun Tunichil Muknal, a phenomenal, sacred cave system that has been featured in National Geographic and Discovery Channel specials.
"It is a rare privilege to introduce students to a region of the world not many of us get to experience firsthand. Belize's indigenous history with its overlay of Spanish, British and African-Caribbean groups has created an unbeatable living cultural classroom," Ms. McManus said.
Students fly to Belize City then take a short flight in small planes to the island of Ambergris, located adjacent to the world's second largest barrier reef system. There, Mr. Billeter and staff from the Tropical Research and Education Center introduce students to an array of marine ecosystems populated by colorful corals, sponges, and fish. As they snorkel in the clear, warm waters, students can photograph and learn to identify the myriad species for a cooperative, group project in the marine biology course.
"Of all the courses I have taught and activities I have assigned in my 43 years of teaching for CSM, taking students to Belize and watching them interact with the natural environment in person is the best thing I do," Mr. Billeter said.
For more information on CSM's upcoming travel study opportunities, visit the college's website.
For more about the College of Southern Maryland, visit their Leader member page.