A Fresh Spring Menu @ the Tides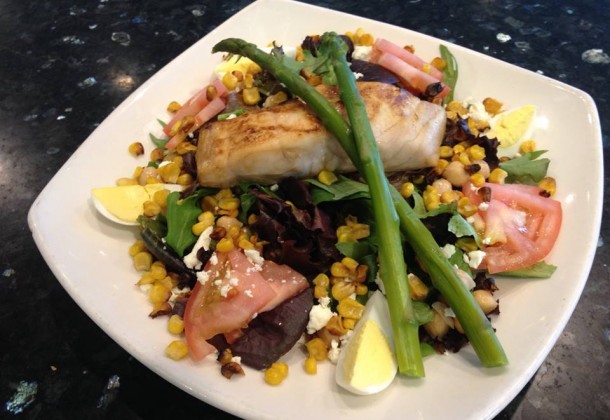 Posted for
The Tides Restaurant
Pax II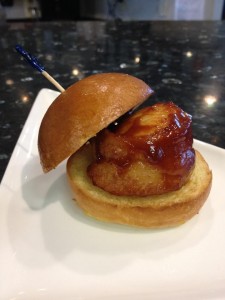 The Tides prides itself on buying local whenever possible and strives to provide Farm to Table products for every season. This could not be done without the help of hard working local farmers and watermen. And the long anticipated arrival of spring is always a boost to a fresh menu.
Known every season as the restaurant nearest NAS:Pax River with consistently outstanding cuisine at a competitive price. Check out the Tide's Spring 2014 menu below for a hint of the creativity and range of the fare. Visit and ask your server for the day's specials and the wine list.
Monday through Friday 10:30 am to 9 pm; Saturday 5 pm to 9 pm
The Tides
Spring 2014 Menu
 Salads
Chef 13
Ham, chicken, garbanzo beans, cucumbers, tomato, egg, parmesan, cheddar, mozzarella, croutonsRoasted Peppadew 12

Piquante peppers stuffed with garlic & goat cheese with spinach, cranberries, feta, almonds, & cucumbers (GF)

Scallops over Caesar 16

Three large Scallops, blackened and served over a large Caesar salad

Mediterranean 8 Romaine, sun-dried tomatoes, feta, black olives, red onions, garbanzo beans, croutons

Lamb & Beef Gyro 12

Sautéed with peppers & onions, served in flatbread bowl with romaine, feta, tomatoes, & side of tzatziki sauce

Smoked Duck 15

Shredded duck meat, bleu cheese, walnuts, red grapes, scallions, cucumbers, & croutons
 ADD ONS
Blackened Chicken $4 | Salmon $5 | Tuna rare $6 | shrimp $7 Seared Scallops $8 | Crab cake $9 Soup of the Day $3 cup   $6 Bowl
Additional Side $3
We continually change our sides to keep up with what's fresh and available locally, ask your server about today's options
 Sandwiches & Flat breads
Served with one side
Haddock sandwich 13Tomato pesto, avocado, and feta on foccacia 

Grilled Cheese Burger 9

Texas toast grilled cheese using cheddar & smoked

gouda, packed with 100% natural ground chuck

 Packed Portabella sandwich 9

Baked cap topped with Quinoa, tomatoes, peppers, & scallions on focaccia

 Barbeque Chicken sandwich 11

Grilled BBQ Chicken breast, bacon, & mozzarella on brioche bun

Honey Ham & Smoked Gouda Croissant

Still in the mood for breakfast? This will help!

Add a fried egg for $2

Chicken Salad sliders 9 3 brioche slider buns, egg, mayo, red onion, & herbsGrilled Salmon sandwich 12

Bacon, lettuce, tomato, and avocado on brioche bun

 Blackened Chicken Caesar flat bread 10

Caesar dressing, parmesan, romaine, and spicy chicken

 Crab Cake sandwich 14

Greens, tomato, and side of spice tartar on toasted Brioche

 Ahi Tuna flat bread 12

Rare tuna, garden salsa, sweet chili ranch, and field greens

 
SMALL PLATES   $9 each
Ahi Tuna Rare Crusted in cracked black pepper & briefly seared in sesame oil with soy sauce, wasabi, & pickled ginger Barbeque bacon-wrapped Scallops Wrapped in bacon and smothered in barbeque sauce

 Fried Goat cheese with toasted foccacia

Maryland goat cheese rolled in herbs and panko

 Rockfish Bruschetta

Sliced Rockfish, tomato pesto, and parmesan

Bacon Twists

Wrapped with filo dough, side of maple syrup dip

Figs in Bacon Filled with goat cheese & crushed almondsGator Bites Chunks of gator tail meat, Cajun & fried, served with sweet chili ranch dip

Crab Dip

Served with toasted garlic oil-brushed Pita points

Asparagus & Prosciutto flatbread pizza

Basil pesto, fire-roasted tomatoes, spinach, & asiago

 Calamari

Tubes and tentacles, served with red sauce

 
ENTREES  –  Served with your choice of two sides
 Crab Cakes 23
2 Colossal cakes inspired by the signature Rockhall, Maryland recipe Mahi Mahi 17

Pan-seared, baked with our garden salsa (GF)

 Salmon filet 18

Teriyaki marinated with tahini ginger sauce

 Haddock-wrapped crab cake 19

Flaky white haddock baked around a crab cake

New York Strip 19

Natural beef grilledsmothered in

caramelized onions & red wine demi glaze

 Filet Mignon 22

Bacon-wrapped, top with crab for $5

(GF without crab)

 Chicken and Crab Imperial 17
With lemon caper cream sauce Pesto Chicken 16

Stuffed with sliced ham & topped with basil pesto & feta (GF)

Peppered Pork 17

Roasted Pork tenderloin rolled in cracked black pepper, over sautéed spinach and feta cheese (GF)

Chicken Kabobs

Chunks of bacon-wrapped pineapple, peppers, onion & tomatoes with grilled teriyaki chicken chunks

 Basil Alfredo Pasta 13

Whole grain penne pasta tossed in creamy

basil parmesan sauce

GF – Gluten-free Catering Packages Available!
Desserts $5    Ask your server about today's availability
Order To Go or hold your party at The Tides. There are No Room Rental Fees at The Tides
E-mail [email protected] for scheduling
Visit thetidesrestaurant.net
Open WiFi