Frankenstein Comes to CSM Children's Theatre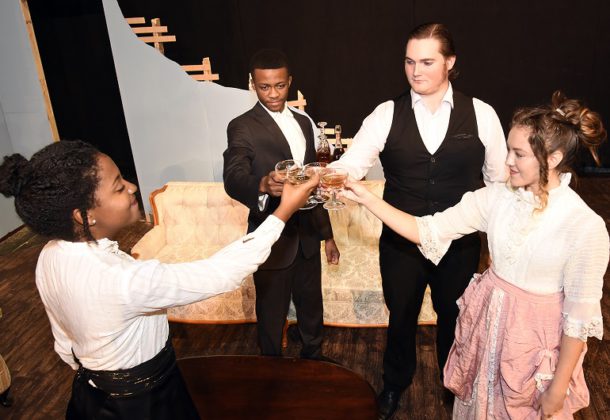 From left, Eleona Dixon portrays Frau Mueller, Isaiah Sauls portrays Lionel Mueller, Levi Shaw is lead as Victor Frankenstein, and Skylar Hepner portrays Elizabeth Lavenza as the characters raise a toast in celebration to Victor and Elizabeth's marriage announcement.
The Children's Theatre at the College of Southern Maryland is ready to present the perfect show for Halloween. The Southern Maryland community's young actors will perform Frankenstein at 7 pm Oct. 26 and 2 and 7 pm Oct. 27.
The show will be performed at the College of Southern Maryland's La Plata Campus in the Fine Arts, or FA Building, theater located at 8730 Mitchell Road in La Plata.
"Frankenstein" is a play that was written Victor Gialanella, based on the infamous horror novel by Mary Shelley. Shelley first published the book in 1818, so it now marks its 200th anniversary. The story has been modified for all kinds of performances, from the theater to the big screen to television over and over again for the past 200 years. It has become an iconic model of horror stories and science fiction. The novel, set in Switzerland, tells the story of a scientist who hired unsavory characters to dig up bodies from a local grave. The scientist puts the best parts of each body together and manages to bring the body back to life. It seems his experiment is a success, but soon the scientist realizes he is horrified by what he has created.
Victor Gialanella's play, as it will be presented by the CSM Children's Theatre, was first published in 1982. Admission to the play costs $7 for adults and seniors and $5 for youth of high school age and younger. For information about tickets, email bxoffc@csmd.edu, call 301-934-7828, or visit the CSM Arts website.
The play is produced by special arrangement with Dramatists Play Service Inc.
Next for the Children's Theatre will be African American Folk Tales: The Tails of Br'er Rabbit by CSM alumnus Kenneth L. Waters Jr. The play will be performed at 7 pm Feb. 14 and 15, 2019, and 2 and 7 pm Feb. 16.
For more about the College of Southern Maryland, visit its Leader member page.