Former Pax Commander Passes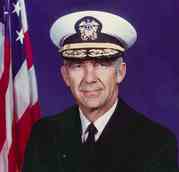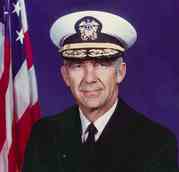 Rear Admiral James H. Foxgrover, distinguished Naval Aviator, Engineer and Executive died at his home in Oak Harbor, surrounded by family, on July 30, 2011 at the age of 85. Jim Foxgrover was born in Joliet, Illinois on March 26, 1926 to Leander Foxgrover and Aria Kraus Foxgrover. At age three, he moved to Appleton, Wisconsin. He graduated from Catholic High School in Menasha, Wisconsin in 1944.
Jim studied aeronautical engineering at Western Michigan State University under the V-5 program until that program was closed at the end of World War II. He then was accepted under the V-12 program and completed his Bachelor's Degree at Iowa State. He was married to Delores Saue on July 2, 1949 in Pensacola, Florida. He enlisted in the U.S. Navy and attended Test Pilot School at Patuxent River, Maryland and the Naval Post Graduate School. He went on to attend Princeton University, receiving his Master of Science in Aeronautical Engineering and a Master of Arts in International Relations from George Washington University. Jim also graduated from the Naval War College and the National War College.
Admiral Foxgrover had a distinguished Naval career spanning more than 33 years. He flew in five aircraft squadrons, in addition to carrying out assignments as both the F-4 Class Desk Officer and Head of the Fighter Branch of NavAir; as Executive Officer and Navigator of the USS Independence; as Readiness Officer for Commander Naval Air Force; U.S. Pacific Fleet; and as Commanding Officer of Naval Air Station, Miramar, California. He was also Commander, Naval Air Test Center, Patuxent River, Maryland and served as Head of the Materiel Acquisition Group of the Naval Air Systems Command.
Qualified in over 120 different aircraft, he was awarded the Distinguished Service Medal for exceptional meritorious service in aircraft Principal Site Testing as Commander of the Naval Air Test Center. In addition, he was given the Naval Materiel Command's First Reliability, Maintainability, and Quality Assurance Award for his excellence in pursuing the ultimate quest for providing reliable and maintainable equipment to the Fleet of the United States Navy. He was an advocate for excellence and altered the military practice of purchasing aircraft and then paying for safety retrofitting. He demanded planes be built with all necessary safety components in place, saving lives, time and money. Admiral Foxgrover retired on May 31, 1979.
Jim and Delores returned to their home in Loudoun County, where Jim began raising cattle. He loved his animals. After 10 years, Jim and Delores moved to Oak Harbor, WA to care for Delores' parents and in 1989 began building their home, which they moved into in 1991.
Jim was a devout Christian and his commitment to Christ and his church was a very important part of his life. Jim was a member of St. Augustine Catholic Church, Oak Harbor, WA; a member of the Holy Names Society of St. Mary Catholic Church of Appleton, Wisconsin; a Eucharistic Minister Extraordinaire; a confirmation instructor and altar server. He was a Member Emeritus of the Pioneers of Naval Aviation. He was also a Fourth Degree Knight, Knights of Columbus, John O'Brien Council 3361 of Oak Harbor; a Life Member of the Boy Scouts of America; a member of Sigma Pi Epsilon of Iowa State University and Pi Mu Epsilon Math Fraternity of Princeton University.
Jim Foxgrover is survived by his beloved wife of 62 years, Delores, and by three children: James Lee Foxgrover of Pawley's Island, South Carolina; John and Kristi Foxgrover of Los Altos, CA and Ann Camille Lee of Oak Harbor. Eight grandchildren and two great grandchildren also survive.
Funeral Mass for Admiral Foxgrover will be celebrated on Saturday, August 6, 2011 at 11:00am at St. Joseph of Cupertino Catholic Church, NAS Whidbey, with Rev. Philip Raether, Rev. Jack O'Leary, SJ, and Rev. Jerry Kienzle, CDR, CHC, USN (Ret) as Celebrants. Rosary will be said at NAS Chapel at 10:30am. Military Honors will follow the Mass under the auspices of the NAS Whidbey Island Honor Guard. Cremation will follow with Rites of Interment at Maple Leaf Cemetery at a later date.
A Reception for family and friends will follow at the NAS Whidbey Island CPO Club Ballroom. Friends and family are encouraged to share memories and condolences at www.wallinfuneralhome com. Arrangements are entrusted to Wallin Funeral Home, Oak Harbor, WA.